As warmer weather approaches, your calendar is sure to start filling up with family cook-outs, church potlucks, and backyard BBQs. But, like me, I'm sure you're tired of traditional cook-out dishes like hot dogs, hamburgers, and potato salad. This summer, go under the sea for your next family BBQ with this list of fantastic summer seafood recipes. From yummy dips to delicious seafood entrees, your full menu for your next cook-out is completely covered with these seasonal seafood dishes.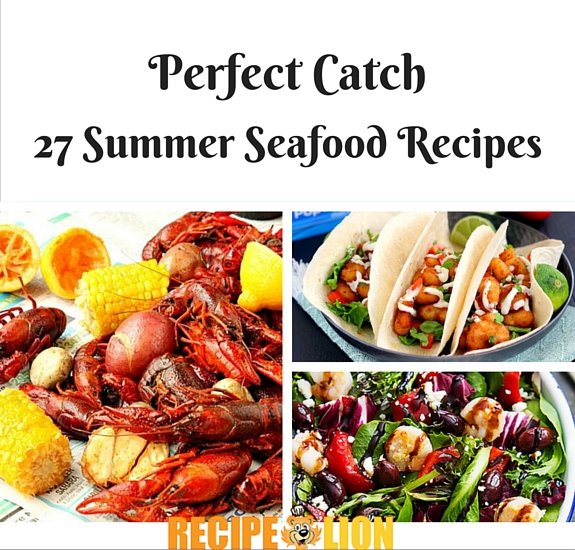 If you love fresh seafood or are just looking for alternatives to grilling steak, then these tasty salmon recipes are perfect for you! I've also included the best crab and lobster recipes for summer, in case you aren't able to travel to the East Coast for ocean-fresh shellfish. If shellfish isn't your thing, no worries! I've added some other awesome recipes with trout and tuna (just to name a few) that are great for any family gathering. Get ready to batten down the hatches and prepare your kitchen for some serious cooking, because I know you'll want to try absolutely all of these recipes!
If you have some appetizing seafood recipes of your own, or just want to let me know how you like your seafood, be sure to leave a comment below! And make sure to keep reading to find your new favorite summer seafood recipes!
*Note: When cooking for a large crowd, such as for a BBQ or potluck, make sure to keep allergies for ingredients like shellfish in mind.
Perfect Catch: 27 Summer Seafood Recipes
Anchors Aweigh: Best Salmon Recipes
Summer Shellfish: Crab and Lobster Recipes
Small Fry: Yummy Shrimp Recipes
Smooth Sailing: Other Delicious Seafood Recipes
What's your favorite type of seafood? Leave a comment below!
Latest posts by RecipeLion
(see all)