When I was a kid, Easter was always one of my favorite holidays. One of best things about the holiday was dyeing eggs. (Although, I was a bit of a perfectionist with them.) My grandma would boil the eggs while my mom set up the dyes. Once everything was ready, my brothers and I would decorate the eggs with wax crayons before dropping them in the vinegar and food coloring. I loved seeing my eggs proudly displayed at the centerpiece at Easter dinner. The next morning, I would come down to find all the pretty shells in the trash. My dad would eat a few for breakfast and Grandma would make the rest into deviled eggs. It was heartbreaking until I remembered that I had chocolate waiting for me.
Create
You'd think that boiling an egg would be the simplest thing in the world, and you'd be right – if you know the proper method. In the food world, there are two different but equally accepted ways of preparing a hard boiled egg. They are pretty much the same every way except in one recipe you put the egg in the water before it boils. In the other, you place the egg into water that's already boiling. Either way, after about 12 minutes, you have the perfect hard boiled egg.
Now, what should you do with these eggs?
Decorate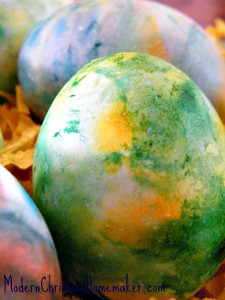 Well, as I mentioned, dyeing eggs is always a very popular craft, especially for Easter.
This awesome tie-dye Easter egg project from Modern Christian Homemaker is certain to be an entertaining and different way to decorate your eggs. Instead of dunking them into cups of dye, you roll them through shaving cream that's been dotted with dye. Your kids are going to love the messiness of this one.
Here's another great craft: Dimensional Eggs. These unique eggs are breathtakingly beautiful and are a perfect activity for you to work on as the kids dye their eggs since this requires a bit more attention and patience than the other two crafts.
One of my favorite things to do with eggs is eat them. There are many ways you can use a hard boiled egg.
Devour
Deviled eggs are by far my dad's favorite way to eat eggs. Creamy with just the right amount of flavor from the relish, this is a great appetizer to serve before your Easter dinner. This is a super easy way to prepare eggs, and you can find ten different ways to make this delectable dish.
You can always eat them as they stand with just a little pepper or slice them up and use them on your chef's salad. However you decide to devour your eggs, you will definitely be satisfied since they are full of protein and Vitamin-D.
The Two Peas and Their Pod bloggers also have a great recipe for hard boiled eggs. Try this wonderfully creamy Avocado Egg Salad Recipe for a great lunch option after Easter is over.
Find out more ways to enjoy your Easter holiday and your eggs, perfectly hard boiled or not, in this awesome free eBook!
Which method do you think yields the perfect hard boiled egg?
Latest posts by RecipeLion
(see all)