Potatoes are sort of like the perfect ingredient because they can transition so seamlessly from season to season. Thanksgiving mashed potatoes? Check. Hearty and soul-satisfying potato soup during the cold winter months? Check. And how about a delightfully rich and creamy potato salad for an outdoor picnic once spring hits?  Check and check!  See, it really is the perfect food!
I figured now is the perfect time to share one of my all-time favorite deli salad recipes that's great for taking along to any get-together where you're potlucking with friends or family. I haven't met anyone who doesn't love this yummy recipe for All-American Potato Salad, so definitely give it a try this spring or summer!
And check out what some of our RecipeLion readers had to say about the dish too:
"Great recipe! Miracle whip gives it the zing and mustard seed is a great pick up."
"This is a great recipe. Quick, easy, everyone likes it …. what could be better!"
"Keep the Miracle Whip, leave out the celery seed, mustard optional. I have been making this recipe for years… everyone I know loves it."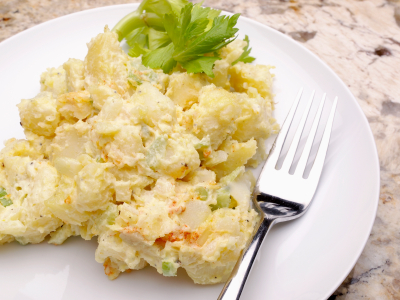 All-American Potato Salad
Ingredients:
4 cups potatoes, cooked and cubed
2 hard boiled eggs, chopped
1/2 cup onion, chopped
1/2 cup celery, sliced
1/2 cup sweet pickle, chopped
1 cup Miracle Whip
1 teaspoon prepared mustard
1/2 teaspoon celery seed
1/2 teaspoon salt
1/8 teaspoon pepper
Instructions:
Combine Miracle Whip, mustard, celery seed, salt and pepper; mix well.
 Then combine potatoes, eggs, onion, celery and pickle.
 Add dressing to potato mixture; mix lightly. Chill.
If you're looking for other ways to mix up your deli salad routine, try out any one of these 12 Palate-Pleasing Potato Salad Recipes we've collected for you. There's bound to be something to suit your taste buds in this recipe roundup. Enjoy!
If you love this recipe, check out even more potluck recipes on RecipeChatter:
What's your favorite recipe to make for a picnic?
Latest posts by RecipeLion
(see all)