The question of "pie or cake" is a tough one to answer, but what if you didn't have to choose? The recipes below combine two of the most popular desserts: pie and cake! Whether they're pie flavored cakes, or pies made in cupcake pans, these hybrid cake recipes give you the best of both worlds.
If you love the classic flavors of pie, but the soft and moist texture of cake, you'll go crazy for the pie flavored cake recipes below! From pecan pie cake, to pumpkin pie cake, to key lime pie cake, and everything in between, these delicious cakes are easy to make and you don't have to fuss with a crust.
Another delicious hybrid is the combination of pie and cupcakes, called piecakes! These mini pies are made in a cupcake pan, so they're super cute and perfect to serve at a party. Browse the list below for 12 amazing pie cake recipes that might just blow your mind.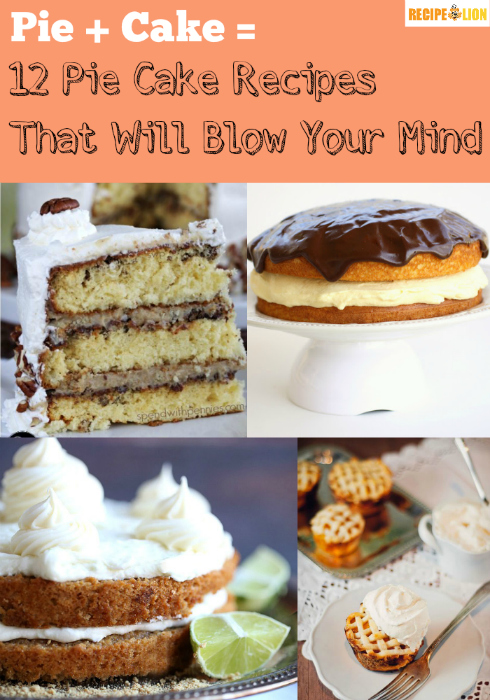 Pie Flavored Cake Recipes
Special Easy Boston Cream Pie Cake – This easy cake recipe is made with cake mix and has all the amazing flavors of Boston cream pie.
Mom's Best Apple Dump Cake – Dump cake recipes are so incredibly easy, and this one is made with apple pie filling. Yum!
Easy Pecan Pie Cake – It's a pecan cake with delicious caramel ganache filling.
Oatmeal Cream Pie Cake – This cake has all the flavors of Little Debbie's oatmeal cream pies in an easy-to-make cake!
Key Lime Pie Cake – Key lime pie is always amazingly refreshing, and you simply can't beat cake recipes that have that same great flavor.
Pecan Pie Cake – Pecan pie filling is used to fill the layers of this amazing cake recipe.
Slow Cooker Pumpkin Pie Cake – Cake recipes are super easy to make in the slow cooker! This one tastes like pumpkin pie with cake consistency.
Piecakes (Pies Made in a Cupcake Pan)
Vanilla Peach Piecakes – How cute are these? They're peach pies made in a cupcake pan with a lattice topping.
Easy Muffin Tin Pumpkin Pies – These mini pumpkin pies are perfect to serve at a holiday part or for an afternoon snack.
Mini Cherry Pies – Mini cherry pies are topped with a lattice design that makes them look like you spent all day on them.
Bite-Sized Wonton Apple Pies – These apple pie cupcakes are made with wontons, so you don't have to fuss with a crust!
Southern Muffin Tin Dessert Bites – It's like Southern pecan pie in an easy-to-make muffin tin dessert!
 If you had to choose … pie or cake?
Latest posts by RecipeLion
(see all)