Now that we are four days into the month of November, it's time to get serious about Thanksgiving preparations. The big day is 23 days away, so meal planning may seem a little premature, but the best way to guarantee a fuss-free Thanksgiving dinner is to be as prepared as possible.
While most of the focus will be on the Thanksgiving turkey and the many side dishes, it is equally important to attend to Thanksgiving dessert. All of your guests will most likely be stuffed with stuffing, but that doesn't mean that they still can't enjoy a tasty piece of homemade pie. So much heart goes into the rest of the meal, so don't wimp out on dessert!
I am a firm believer in making my Thanksgiving pies from scratch. It may seem like a hassle or a wasted effort, but there is really no sense in ending Thanksgiving Day with a sad, store-bought pie. If you want to make your Thanksgiving pie from scratch but aren't sure you can pull it off, fear not! We have you covered with all of our tips and tricks for how to make apple pie.
How to Make Apple Pie
The aspect of pie making that people most often find intimidating is making the pie dough from scratch. I am here to tell you that it does not need to be terrifying! Just keep a few of our tips and tricks in mind and you and your pie crust will be golden…literally!
Keep everything cold. The most important part of making pie dough is to make sure everything stays as cold as possible. It's better for your ingredients to be too cold than too warm. Keep your butter in the refrigerator until the last possible second. Add ice to your water. When in doubt, throw the whole bowl of flour and butter, along with your pastry blender, into the fridge.
Do not overwork the dough. In order for your pie dough to be really flaky and tender, you cannot overwork the dough. Working the dough too much will cause the flour to develop its gluten.
The butter should be visible. It is better for there to be big chunks of butter in your dough than to not have any butter visible at all. As the butter melts in the oven, it will release steam and create flaky layers in the dough. If the butter breaks down too much, the flaky layers will not be able to form as the dough bakes.
Keep everything cold. Yes, we know that we are repeating ourselves. But even after you have finished making the dough, it has to keep taking frequent trips back to the refrigerator. The dough must first rest in the refrigerator for about two hours before it is rolled out, and then it must be refrigerated again after it has been rolled out and pressed into the pie plate. Refrigerating the dough for half an hour before it bakes will help make the crust flaky, and the dough is also less likely to shrink up in the oven.
Make it ahead of time. Save yourself time and stress on Thanksgiving Day by making your pie dough ahead of time.
Finish strong. After your pie is assembled and perfect, brush it with egg wash and sprinkle it with coarse sugar. This will help make your crust golden brown and beautiful, which just a hint of sweet sparkle.

---
For more tips and trick for the perfect pie, check out our detailed step-by-step guide on How to Make Apple Pie.
---
Bonus! Thanksgiving Pie Recipes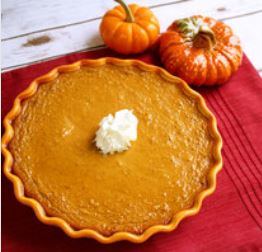 Down Home Southern Apple Pie
Grandma's Favorite Fresh Pumpkin Pie
Crustless Pumpkin Pie (shown)
What is your favorite type of pie to make from scratch?
Latest posts by FaveSouthernRecipes
(see all)