When the weather gets warmer, don't you just crave the juicy tropical flavors of the season? I know I do, which is why I absolutely love to make pineapple desserts in the summer. These tropical treats will make it easy to imagine you're under a palm tree somewhere with your toes in the sand. They're light and fruity with amazing flavor, plus they're super easy to make! Some of these pineapple desserts don't even require you to turn on your oven. Serve any one of these sweet treats at a summer cookout or simply enjoy them for an after-dinner snack.
Plus, scroll down to see how to cut a pineapple the right way!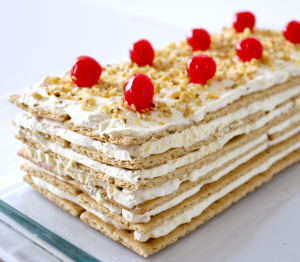 Pineapple Mansion Cake (test kitchen approved!) – This easy no-bake dessert recipe looks amazing on a potluck table, but you won't have to spend hours making it. Simply mix together the pineapple, Cool Whip and vanilla pudding filling, then layer it with graham crackers and refrigerate!
Pineapple Delight Dessert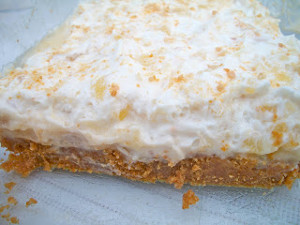 – When it comes to pineapple recipes, this one might be one of the easiest to make and most delicious. The creamy layered dessert has a graham cracker crust with a buttery filling and pineapple studded Cool Whip on top.
Pineapple Pudding Cake from Made To Be A Momma – A white cake is topped with a pineapple pudding layer then Cool Whip! This isn't your average cake mix recipe … it's much better than any you've tried before.
Pineapple Upside-Down Cupcakes
from The Cake Blog – Pineapple upside-down cake recipes are always good in the summer, and this recipe is your classic cake reinvented. Making them into cupcakes makes them perfect to serve to guests or eat as individual portions! Plus, you get the gooey pineapple topping in every cake.
More Pleasing Pineapple Desserts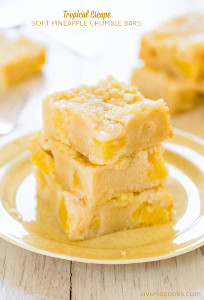 Tropical Escape Pineapple Crumble Bars (shown)
2-Ingredient Pineapple Whip from Hip2Save
Perfect Pineapple Upside Down Cake
Tropical Pie from Table for 2
Heavenly Hawaiian Bread Pudding
Don't be intimidated by cutting fresh pineapple! With this easy tutorial, you can learn how to cut a pineapple the right way. Get the most out of the fruit and be left with juicy, sweet chunks to bake into these desserts or toss in a fruit salad. View this short video, or see the step-by-step tutorial!
Latest posts by RecipeLion
(see all)