Recently, Pizza Hut announced they would be selling pizza scented perfume in the United States. I had the same reaction as you — this is pretty gross and unappealing. As a man, I would never want to go out with somebody who smells like pizza, both for my sake and the sake of everybody we were with in public. I'd have no problem if I was with somebody who smelled like food and I have no inherent problem with food-scented perfumes; however, the perfume had better smell like S'Mores Cake or something wonderful and effervescent. Pizza-scented anything is not my cup of tea and the Pizza Hut perfume is a bad idea.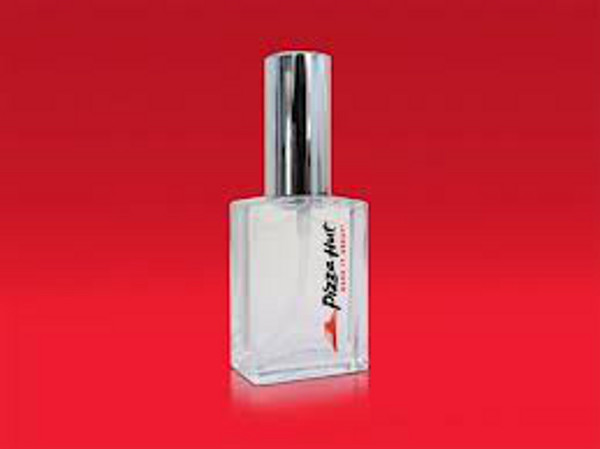 That, of course, does not mean I do not enjoy pizza. I love pizza. I love everything there is about a pizza — including the smell of a pizza. Whether it is the homemade pizza (link this to something) I am cooking in my oven or a huge pie from my local pizza shop, a fresh wheel of pizza is amazing. However, I have never wanted that smell to longingly last. The smell of a fresh pizza is more about an anticipation of eating  pizza rather than smelling the meal. I have never uttered or thought the words, "Wow, this pizza smells great, I wish I could have this smell all of the time."
Luckily for me and America, this new Pizza Hut perfume is a joke. Pizza Hut realized the novelty for what it is. In fact, the creation of this perfume started as a joke that was posted to their Facebook page. Pizza Hut only made limited quantities of the perfume and it was only available for a limited time. This is great news if people are reading this post and were actually intrigued  by perfume manufactured by Pizza Hut.
Even though Pizza Hut obviously doesn't expect to make a profit off of the perfume itself, this novelty stunt could end up back-firing on them. In 2008, Burger King tried a similar stunt where they released a perfume entitled "Flame by BK". The scented spray was supposed to smell like a Burger King Whopper and was sold in limited quantities as a gag. That stunt is credited as a cause for why the company started posting quarter loses until it was sold in 2010 and stopped becoming a public company.
While many other companies like Hasbro has produced similar gag perfumes like a Play-Doh Perfume, doing so has not shown any sort of success. Having people talk about a product you create, especially in this instance, does not translate to products being bought.
This logic makes sense to me. A product like pizza-scented perfume is extremely off-putting to me. The product is so repulsive that I am revolted by Pizza Hut's decision to make this perfume. This, in turn, makes me not want to eat at Pizza Hut.
I am extremely happy that Americans are not  so easily duped by these novelty gag promotions. Call me old-fashioned, but I truly believe that if you want people to purchase your product, then you should create an excellent product. Shame on you Pizza Hut for trying this stunt. For shame!
Sincerely,
Concerned citizen and FaveHealthyRecipes.com Editor
Adam
Would you ever purchase pizza-scented perfume, even as a joke?
Latest posts by FaveHealthyRecipes
(see all)