When you're a beginner-to-average cook, you usually start out with the basics: chicken, ground beef and the like. And that's all well and good for a while. Who doesn't like hamburgers and chicken casseroles for dinner, after all?  But soon you grow tired of having the same thing for dinner week in and week out and you want to change things up. That's the point that I had reached in my cooking, but I didn't know how to branch out. That is, until I attended my most recent cooking class at Sur La Table. I'm taking a three-part series on "How To Cook Everything," and this week they were showing us how to cook meats… everything from the basic chicken dishes to perfectly grilled steak and something that really struck my fancy… roast pork tenderloin!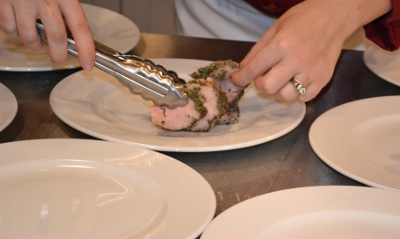 I had no idea how to cook pork, let alone season it, cut it or serve it, before taking this class, so let's just say I had a lot to learn!  If you're in the same boat as me and are new to cooking pork, let me share a few pork tips I learned right off the bat:
Need-To-Know Pork Cooking Tips:
Pork roasts are usually cut from the loin. Boneless cuts are convenient for cooking, but they tend to try out quickly, so look for a piece that has a layer of fat on the outside to keep the meat moist while it cooks.
If the roast comes tied with a string, that's great! If not, that's okay too. You can just as easily roast pork that is untied.
When seasoning pork roasts, you should use herbs that can withstand high heat. These would be "woody" herbs like rosemary, parsley, mint, thyme, oregano and sage. Garlic is also key.
It's very important to chop herbs finely when creating a rub for your pork roast so that they'll stick to the meat properly. Chop, chop and chop some more!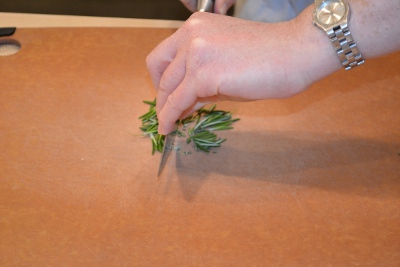 Sugar pairs well with pork (think "pork chops and apple sauce"), so don't be afraid of adding actual granulated sugar to your pork roast recipes.
When slicing pork tenderloin, always slice at an angle and never let the knife tear through the meat fibers. You shouldn't have to push hard with the knife; you should be able to let the knife do most of the work. Use smooth strokes while slicing for best results.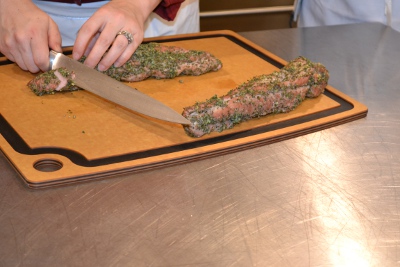 This pork roast was really delicious, and I don't even really like pork that much! I can imagine making this dish for a special family gathering, or just for a nice weeknight meal when you don't feel like eating chicken (again). Let's get cooking, shall we?
Roast Pork with Herb Rub
*Recipe Courtesy of How To Cook Everything The Basics, by Mark Bittman
Yield: 6-10 Servings
Ingredients:
1 teaspoon kosher salt
1/2 teaspoon freshly ground black pepper
2 Tablespoons fresh herb leaves, minced, or 2 teaspoons dried
1 Tablespoon granulated sugar
1 Tablespoon garlic, minced
1 boneless pork loin roast (2-3 pounds)
1.5 cups dry white wine, chicken or vegetable broth, low-sodium, or water, or more as needed
2 Tablespoons cold butter, cut into pieces (optional)
Instructions:
1) Preheat the oven to 450 degrees F and position an oven rack in the middle. Combine the salt, pepper, herbs, sugar and garlic in a small bowl.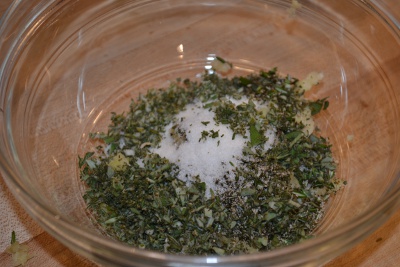 2) Rub the roast all over with the herb mixture.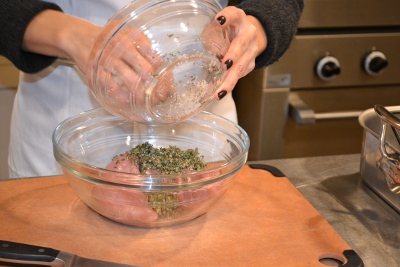 3) Put the meat in a roasting pan and transfer to the oven. Roast, undisturbed, for 15 minutes.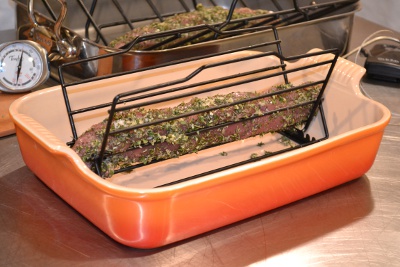 4) Lower the heat to 325 degrees F and pour 1/2 cup of the wine over the roast. Continue to cook the roast, checking every 15 minutes or so and adding 1/4 cup of the remaining liquid to the bottom of the pan each time. Once the pork's exterior has crusted a bit, start brushing the meat with these pan juices whenever you check on the roast.
5) After 1 hour at the lower temperature, check the roast with a quick-read thermometer; insert it into the center in a couple different places to make sure you get an accurate reading. When the roast is ready it will read 140 degrees for medium rare.
6) Remove and transfer the meat to a platter to rest (it will rise another 5 degrees as it sits).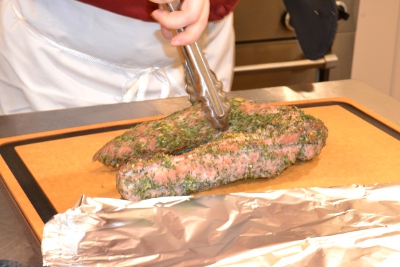 7) Put the roasting pan on the stove (make sure it is heat-proof) over 1 or 2 burners over medium-high heat. If there is at least about 1 cup of liquid in it, leave it; if the pan is almost dry, add 1 cup liquid. Bring the juices to a boil, scraping up any browned bits from the bottom of the pan. When the sauce is reduced to about 3/4 cup, stir in the butter (if desired).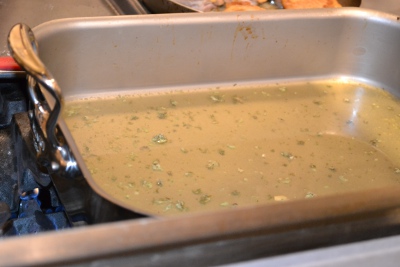 8) Slice the roast crosswise into slices as thick as you'd like (1/4 inch is recommended) and serve the slices drizzled with the pan sauce.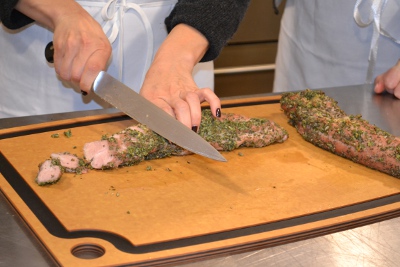 When all is said and done, your finished pork roast will look like this (ours was plated up with the chicken we cooked in class that same day… stay tuned to the blog for that yummy recipe!):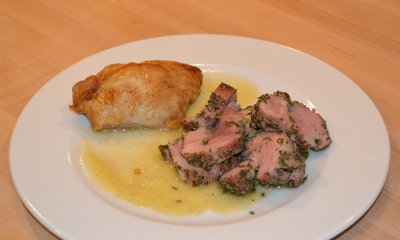 I was really surprised by how easy this whole pork cooking process was. Even though it may look like a lot of steps, it all went by really fast and didn't seem like much effort at all. Honestly, the biggest time commitment was chopping up the herbs for the rub, and then checking on the roast periodically while it was in the oven. If you're looking to expand your weeknight dinner repertoire or just want to challenge yourself beyond your regular ground beef recipes, I'd definitely recommend trying your hand at this pork roast recipe. It's budget-friendly, simple to make and really, really tasty!
What's your favorite way to cook with pork?
Latest posts by RecipeLion
(see all)