If you thought winter was potluck season, think again. AllFreeCasseroleRecipes is officially declaring summer as potluck season. In between all of the summer holidays, birthdays, and graduations, there's always a party going on. Inevitably, you'll be asked to bring a dish to pass. If you're stumped on what to bring to yet another family get-together, why not make a potato casserole?
Made famous by grandmas everywhere, potato casseroles aren't the most glamorous dishes ever, but we promise that any potato casserole you make will get devoured. People love potatoes and cheese and creamy sauce, all of which are key features of potato casseroles. Think about the buffet line at a party. Most people skip over the weird, unique-looking stuff, even if requires expert cooking finesse. But they always go for the potato casserole! No one skips over it. It's a safe haven. Plus, potatoes go with everything. Even better, potato casseroles are easy to make.
So, let's sum up the benefits of potato casseroles, shall we? They're easy, have crowd-pleasing flavor, and are popular among the elderly…what more could you want? Just for you, we've rounded up the best of the best. These are portable potluck potatoes that will make any grandma proud. Don't worry, there are some cool ones here, we promise. Potato casseroles aren't just for Grandma anymore.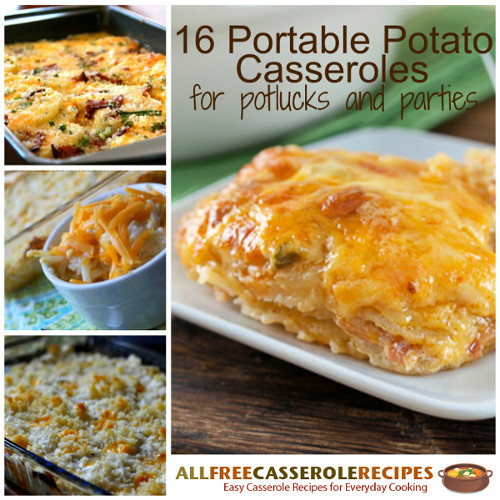 1. Liquid Gold Party Potatoes – Made with Velveeta!
2. Bacon Ranch Potatoes – Bacon and ranch add extra flavor.
3. Chantilly Potatoes – Soft and silky mashed potatoes in a casserole.
4. Cheesy Loaded Twice Baked Potato Casserole – This is loaded with everything you want.
5. Company Potato Casserole – Perfect for guests!
6. Crack Potatoes with Asparagus – This stuff is addicting.
7. Cheesy Roasted Potato Bake – Simple and tasty.
8. Fairly Fast Fresno Potatoes – Done quickly and with flair.
9. Funeral Potatoes – Not just for funerals. These are just plain good.
10. Green Chile Scalloped Potatoes – Spice up your life!
11. One Pan Baked Potato Casserole – One pan and you're done.
12. Potato Chip au Gratin – Potato chips in a potato casserole? Oh, we went there.
13. Roasted Mozzarella Potatoes – Mozzarella sets this apart from the rest.
14. Tex-Mex Scalloped Potatoes – Turn up the heat with this zesty dish.
15. Country-Style Potato Casserole from Drick's Rambling Cafe – Easily make this southern dish ahead of time!
16. Southwest Potato Casserole from The Homemaker's Kitchen – Creative, different, and delicious.
If you still can't decide what to make, here are 14 more potato casseroles. You can even print out the recipes!
What is your favorite way to eat potatoes?
Latest posts by AllFreeCasseroleRecipes
(see all)