One of the challenges presented by our ever expanding society is distance.  Modern technology has helped span the gap–I can now video chat with my parents any night of the week!–but when the holidays come, someone always has to do the traveling.  When you're the visiting party, you aren't expected to cook the meal.  But, if you're a real chef, you probably want to make at least one thing for your family's holiday get-together.
Thanksgiving approaches and Christmas looms around the corner; if you fall into the "mobile" category, now is a great time to a) plan your trip and b) decide if you want to bring a homemade side dish recipe with you as a token of your unconditional love for your family.  Even if your love isn't unconditional, bringing along a food item is a great way to make it look as though you've fully embraced the spirit of the holiday.  If you're staying at home, RecipeLion.com has a free Thanksgiving Dinner Recipes and Fall Craft Projects ebook that contains all the information you'll need to survive the holiday hustle and bustle.
Side dishes are a great food item to bring to Thanksgiving dinner. You won't usurp the main course, and they're likely to travel well. Picking a dish that you can travel with is the most difficult part of looking like a devoted family member who is also capable of creating gourmet meals. To help reduce the stress of Thanksgiving travels, we've collected a list of portable Thanksgiving side dishes that will wow your family.
 Portable Recipes: Thanksgiving Side Dishes to Take With You
1. Sweet Potato Shepherd's Pie Why is this dish so great for a Thanksgiving chef on the go?  The casserole dish is the answer!  Peter from Feed Your Soul has created a great Thanksgiving side, all you need is a sturdy piece of foil or a dish that comes with a cover.  The layer of mashed sweet potatoes will help keep the contents of the pie from sloshing around, meaning that this dish will be perfectly presentable upon arrival.  Give it a quick warm in the oven and you'll be ready to eat.
2.  Roasted Carrot Hummus with Spiced Beef Don't worry about any bumps this tasty dish might get–humus doesn't really have a shape to worry about.  Just pack your hummus into a travel dish and your worries are over.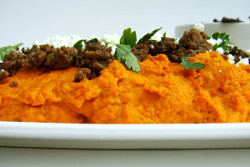 3. Tapenade-Walnut Tart with Goat Cheese This simple, rustic looking dish will suit the spirit of Thanksgiving perfectly.  Make this savory tart in your home, cover your baking pan with a sheet of tin-foil, and trot over to the main event.
4. Nude Dumplings Looking for something a little exotic?  These Korean-inspired dumplings are sure to be a hit.  This is a savory dish that breaks from tradition in just the right way.  These dumplings are easy to make and serve.  A bit of sauce is all they'll be wanting when you show up at Thanksgiving dinner.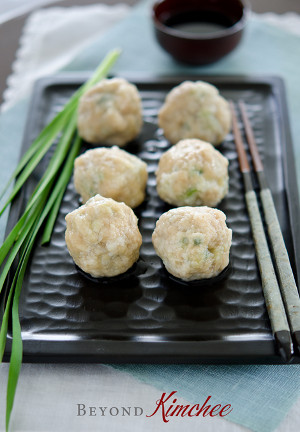 5. Spiced Sweet Potato and Leek Cakes No need to worry about messing up this tasty side dish–a college student working with tin foil would be able to get them safely from point A to point B.  These little cakes will hold together just fine, all you'll have to do is wrap them up.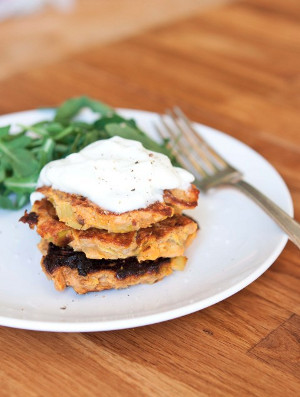 Will you have to travel for Thanksgiving this year?
Latest posts by FaveGlutenFreeRecipes
(see all)