This blog posts comes to us from AllFreeCasseroleRecipes' Featured Foodie Carole, author of the blog Toot Sweet 4 Two.
Top o' the morning to you! My Pot o' Gold Corn Casserole with Shamrock Corn Chips is just what the Leprechauns in your family ordered! Made in a cast iron skillet to simulate the cast iron pot o'gold famous in Leprechaun lore, this delicious side dish will soon become a family favorite.
This corn pudding is creamy and slightly sweet, yet savory with a bit of crunch from the corn nuggets embedded within and the corn chip garnish. The chive and onion essence from the cream cheese adds a hint of mischief (those pesky Leprechauns!) that rounds out the flavor of this tasty side dish. Serve this side dish as an accompaniment to your St. Patrick's Day celebration. This makes a great potluck dish, too! (Pot)Luck of the Irish, anyone?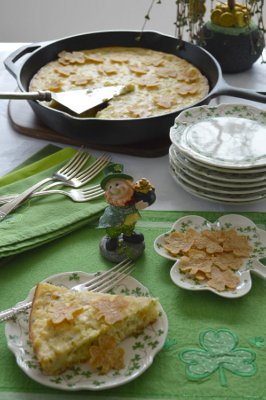 Pot o'Gold Corn Casserole
For the Shamrock Corn Chips:
4 6-inch corn tortillas
Non-stick cooking spray
Salt
Preheat oven to 350 degrees F.
On a cooking board, cut shamrocks from corn tortillas using a 1 1/2-inch shamrock cookie cutter. This will take a little bit of elbow grease and patience – elbow grease in that you need to wiggle the cookie cutter to cut through the tortilla and patience because you need to carefully remove the cut shamrock from the cookie cutter without tearing off the stem!
Place your shamrocks in a 12 1/2-inch cast iron skillet (can use a baking sheet instead) and spray with non-stick cooking spray.
Turn them over and spray the other side with non-stick cooking spray.
Sprinkle with salt and bake for 10 to 12 minutes.
Remove from oven, transfer shamrocks to a cooling rack and allow to cool; set aside.
Makes about 30 1 1/2-inch Shamrock Corn Chips.
For the Pot o'Gold Corn Casserole:
1 tablespoon canola oil
1 cup sour cream
1/2 stick (4 tablespoons) butter, melted
2 eggs
1/4 cup granulated sugar
8 ounce carton of chive & onion cream cheese, softened to room temperature
1/2 teaspoon salt
16 ounce package of frozen petite white corn, defrosted and drained
1 can (14.75-ounces) cream-style corn
1 package (8.5-ounces) corn muffin mix
Preheat oven to 350 degrees F.
Grease bottom and sides of a 12 1/2-inch cast iron skillet with 1 tablespoon of canola oil.
In a large mixing bowl, mix together sour cream, melted butter, eggs, cream cheese and salt with an electric mixer.
Add the frozen (now defrosted) corn, canned cream-style corn and the muffin mix, stirring by hand until well-blended.
Pour into prepared cast iron skillet and bake for 45 to 55 minutes until knife inserted in the center comes out clean.
Remove from oven and add Shamrock Corn Chips as garnish.
Cut into wedges and serve.
Makes 8 to 12 servings depending on how large a wedge is cut!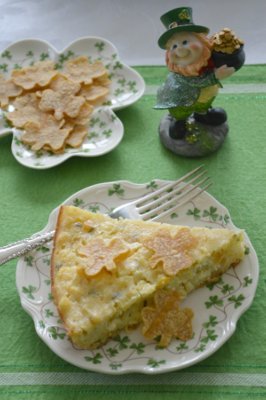 NOTES:
This casserole can be made in a 9″ x 13″ baking dish.
If you use a smaller cast iron skillet, may need to increase cooking time because pudding will be thicker.
If you use regular cream cheese, punch up the flavor with a couple of tablespoons of finely minced fresh chives.
What is your favorite thing to eat on St. Patrick's Day?
Latest posts by AllFreeCasseroleRecipes
(see all)