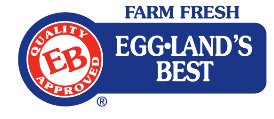 As the editors of AllFreeSlowCookerRecipes.com and AllFreeCasseroleRecipes.com, we are always looking for exciting, new breakfast recipes. We were thrilled to put our heads together and create a recipe that used Eggland's Best eggs. We combined our expertise and created a slow cooker casserole recipe that's loaded with eggs.
Eggs are a great way to start your day because they are filled with protein and Vitamins E, D, A, B12, B2, and B5. Eggs also have Omega-3 fatty acids, which help with heart health, brain, and eye functions. Not to mention, a single Eggland's Best egg offers 13 percent of the protein that we need each day. If you don't give your body the energy it needs, it affects your ability to function well throughout the rest of the day.
We enjoyed using Eggland's Best eggs knowing that their hens are on an all-natural, vegetarian diet. In addition, their hens are not fed hormones, antibiotics, steroids, or animal by-products.
When developing this recipe using Eggland's Best eggs, we wanted to create an easy meal that families can replicate at home. With hectic fall schedules, it's nice to make use of your slow cooker. You can prep this easy breakfast dish and let it cook, rather than standing over the stove.
Our recipe for Potato-Crusted Quiche incorporates 10 Eggland's Best eggs along with other tasty ingredients, such as maple-flavored bacon and hash browns. Our food editorial staff devoured the casserole within minutes of it leaving our Test Kitchen. We all enjoyed it very much. The eggs were the star of the casserole. They came out fluffy and moist, even though they were part of a dense casserole.
Potato Crusted Quiche
Cook Time: 4 hours on LOW
Ingredients:
1 tablespoon butter
1 (1-pound bag) refrigerated shredded hash browns (if using frozen hash browns, thaw first)
10 eggs, beaten
1 cup light cream or half and half
3/4 cup shredded Colby and Monterey Jack cheese blend
3/4 cup shredded mild Cheddar cheese
1/2 teaspoon black pepper
10 pieces cooked maple-flavored bacon, chopped
1 cup broccoli, chopped
1/2 cup spinach, chopped
1/2 small white onion, chopped
Directions:
1. Cook bacon. Chop. Set aside.
2. Chop broccoli, spinach, and onion.
3. Grease slow cooker with butter. Line the bottom of the slow cooker with hash browns.
4. In a large mixing bowl, combine eggs, cream, pepper, onion, broccoli, and spinach. Stir well. Pour mixture over hash browns. Sprinkle cooked bacon on top of egg mixture.
5. Cover and cook on LOW 4 hours.
Note: Check quiche after 3 hours to make sure it hasn't dried out. Do not overcook.
*This dish is naturally gluten-free.
Step by Step pictures:
Chop the bacon.
Chop the vegetables.
Place hash browns in the slow cooker.
Beat the eggs.
Mix ingredients into the eggs.
Pour the mixture over the hash browns.
Place lid on slow cooker and cook on LOW 4 hours.
Finished quiche.
Enjoy!
This is a sponsored conversation written by me on behalf of Eggland's Best . The opinions and text are all mine.
Latest posts by AllFreeCasseroleRecipes
(see all)