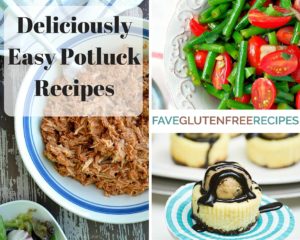 Am I the only one that looks forward to potlucks because it's a giant surprise as to what food is going to be served? I get ridiculously excited when I know a certain person is attending said potluck if they have a signature dish that I love. Summer just seems to be prime time for potlucks because the weather is nicer and everyone wants to be outside. Enjoy the last moments of summer by having an end-of-summer potluck!
While fun, it can be stressful when you have dietary restrictions and you don't know if there will be anything that you can eat.These gluten free potluck recipes are dishes that both your gluten free and non-gluten free friends will enjoy–in fact, they'll love them so much you'll probably be bombarded with recipe requests. Even if you don't have a potluck on the horizon, you could still enjoy these recipes as an easy dinner casserole, tasty side dish, or dessert for a special occasion.
Deliciously Easy Potluck Recipes
Savory Casseroles
We promise that your friends won't know that these casseroles are healthy or don't have any gluten. Seriously, they're so delicious and filled with flavor that no one will ever know the truth…until they ask for the recipe.
Extra Cheesy Chicken and Rice Casserole – My two favorite words: "Extra Cheesy."
Allergy-Friendly Tater Tot Casserole – Make this casserole if you have a friend that's allergic to everything–don't worry, it's still delicious!
Quinoa Stuffed Peppers Casserole – (pictured, above) Just as much protein as the original, but naturally gluten free!
Overloaded Taco Casserole – Because really, who doesn't love Mexican food?
Easy Slow Cooker BBQ Pulled Pork –  (pictured, top collage) A potluck staple! Just be sure to buy some gluten free buns–or make these Gluten Free Buns!
Delectable Side Dishes
Need something to serve alongside your main dish? These side dishes are super simple to make and are filled with whole ingredients. When tossed with dressing and veggies, gluten free pasta doesn't taste gluten free!
Grandma's Favorite Broccoli Salad – Even the pickiest of vegetable eaters will gobble up this broccoli salad.
Lemon-Basil Pasta Salad – (pictured, above) Super light and fresh, this pasta salad is very delicious.
Simple Italian Green Bean Salad – (pictured, top collage) Yummy and delicious, this easy salad will be gone in no time.
Corn and Avocado Pasta Salad – The homemade dressing really makes this dish amazing.
Grilled Potatoes with Bleu Cheese – A little bit different, but super simple to prepare.
Easy Desserts
What's a party without dessert? These easy recipes are sure to impress your friends and leave them wanting more. Make one or make them all because they're sure to be a hit.
Chocolate Chip Cookie Dough Mini Cheesecakes – (pictured, top collage) These little cheesecakes are as delicious as they are adorable. Plus, cookie dough is a fan favorite.
Seven Layer Bars – These bars are SO WORTH the effort needed to make them.
Creamy Peanut Butter Cheese Ball – Peanut butter is my favorite food, and this is basically a giant ball of peanut butter. What could be better?
Chocolate Mint Crinkle Cookies – (pictured, above) Chocolate and mint are just super refreshing together, don't you think?
What's your favorite dish to bring to a potluck? Tell us in the comments!
Latest posts by FaveGlutenFreeRecipes
(see all)