Hey there! Holly here from Club Crafted again.
How excited are you to start baking this season?! Fall baking is my favorite because it makes my whole house smell amazing and usually like cinnamon and nutmet. With cooler weather, I finally feel comfortable turning my oven on, so I'm excited to share these very easy-to-make pumpkin hand pies that taste just like a pumpkin pie in convenient little packages that fit in your hand – hence the name. Surrounded by flaky pie crust, they're easy to carry around (a.k.a great for kids!) and very easy to serve.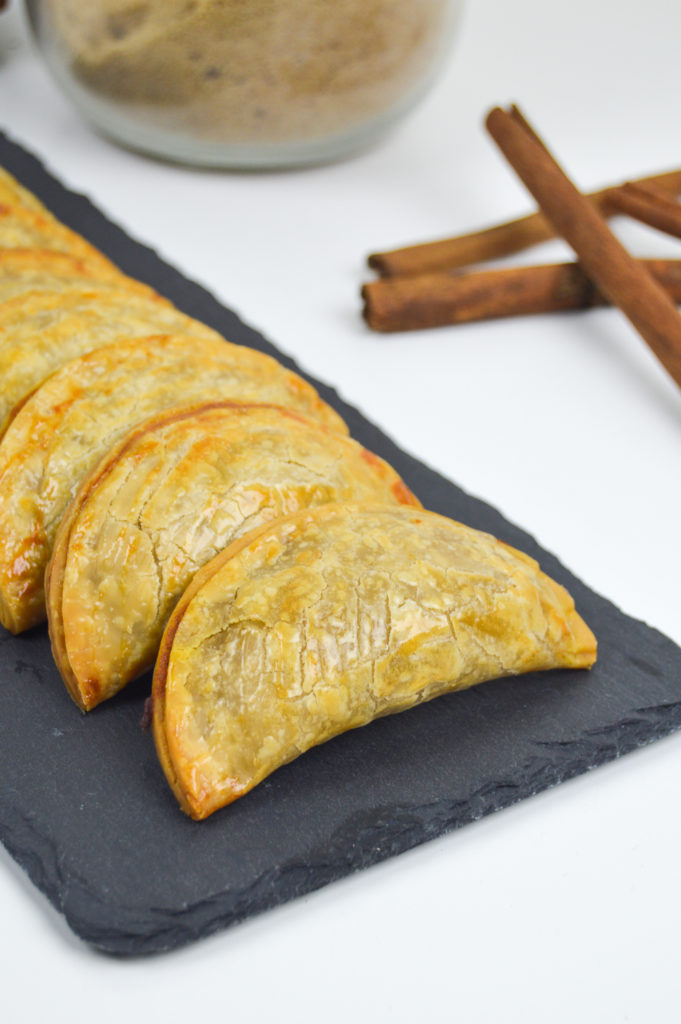 To make this recipe, I prefer to use store bought pie crust. Personally, I find that it is just as tasty and a lot less work, which I always appreciate when I'm in the kitchen, but you can absolutely make your own pie crust and be aware that baking times may vary. Overall, this recipe is very easy and can be made using items you probably already have in your kitchen!
Ingredients (makes 12-14 hand pies): 
1 cup pre-made pumpkin puree
2 tbsp brown sugar
1 tbsp granulated sugar
1/4 tsp cinnamon
1/8 nutmeg
1/8 ginger
1 egg, beaten
2 rolls of pre-made pie crust
Instructions:
Preheat the oven to 350 degrees and line two baking sheets with parchment paper.
Combine the pumpkin filling, sugars, cinnamon, nutmeg and ginger in a bowl and mix to combine. Roll out the pie crust dough and use something approximately 4 inches wide to cut as many circles as you can out of the dough. I use a set of hand pie cutters, but you can use other items like cookie cutters or even a mason jar lid. Once you've cut all of your circles, roll the remaining dough out again and keep cutting until you use up all of the dough.
Move the cut pie crusts to the lined baking sheets a couple inches apart. Place about a spoonful of pumpkin filling in each circle and then fold the dough in half carefully so that the pumpkin filling remains in the middle and does not spill out the sides. Using a hand pie mold or a fork, press around the edges of the hand pies to secure the top and bottom.
In a small bowl, beat the egg. Brush it lightly onto the prepared hand pies. Bake for 20-22 minutes until the tops are flaky and golden brown. Remove and let cool completely before serving.
Once cool, serve alone or even with a dollop of ice cream or whipped cream, and it's every bit as good as a classic pumpkin pie!
Latest posts by Holly Wade
(see all)