This guest post comes to us from Lindsay from the blog Life and Kitchen.
This pumpkin pie fudge will kick you right into fall. When I took my first bite, I immediately started thinking about my Thanksgiving menu. What kind of potato dish should I make? Is it okay to have 3 desserts? (Yes!).
I like normal pumpkin pie, but I'm not always its biggest advocate. Especially when it's sitting next to an apple pie. But I loved this fudge version so much more than I expected to. It's extremely rich and after one or two pieces I felt like I was happily satisfied. It has all of the autumnal flavors, but not the commitment of a whole slice.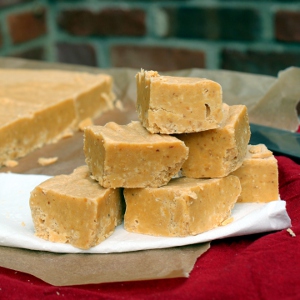 Since this recipe makes way more fudge than a normal person would ever need, I took leftovers into work. This is what really sealed the deal that it was a success. Everyone loved it! If you're an introvert, just leave it in the kitchen because I had people stopping by my desk left and right for no reason other than to talk and eat and tell me how much they loved that fudge. Luckily, I love getting to know everyone, so it's good inspiration to bring more treats in!
What I'm trying to say is that you need to make this. Now. You'll show up at my desk to thank me later.
Pumpkin Pie Fudge Recipe
Adapted slightly from Prevention RD
Ingredients:
1.5 cups sugar
1.5 cups brown sugar
3/4 cup unsalted butter
2/3 cup fat-free evaporated milk
1 cup canned pure pumpkin
2 Tbsp corn syrup
3 tsp pumpkin pie spice
9 oz white chocolate chips
7 oz marshmallow fluff
1 tsp vanilla extract
Instructions:
1)  In a large saucepan over medium-high heat, combine the sugar, butter, milk, pumpkin, corn syrup, and pumpkin pie spice. Stir constantly until the mixture comes to a boil. Continue cooking and stirring until a thermometer reads 235 degrees F (soft-ball stage). Don't guess on this part; you should definitely use a candy thermometer!
2)  Remove the pan from heat and add the white chocolate, marshmallow fluff, and vanilla and let it sit for about a minute and soften. Then stir until it is all melted and blended. Pour the mixture into a 9×9 pan lined with parchment paper. Let stand until completely cool and set. Cut the fudge into 1-inch squares.
Which do you prefer: Traditional pumpkin pie or pumpkin pie flavored desserts like this one?
Latest posts by RecipeLion
(see all)