On Monday, October 7, the editors of RecipeLion, AllFreeSlowCookerRecipes, AllFreeCasseroleRecipes, FaveHealthyRecipes, FaveGlutenFreeRecipes, and TheBestDessertRecipes, as well as the editor of the soon-to-be-launched FaveSouthernRecipes.com, traveled to Didier Farms' Pumpkin Fest. There, we learned about the many different types of apples and which ones make the best pies, how to pick a pumpkin for baking, and why pumpkins are fruits. The tips and tricks we learned will help you to make the most of your next trip to the food store, farmers' market, or local produce stand.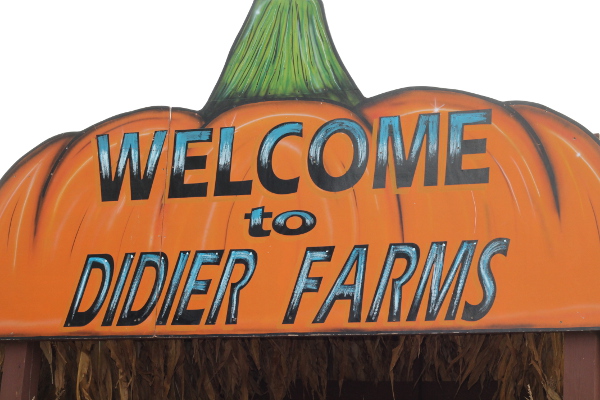 It's a crisp, overcast day with a sharp breeze. When we arrive at Didier Farms, there are preschoolers, holding hands and lining up, ready to explore everything the small farm has to offer. While they wander off to hayrides and the petting zoo, the chilly breeze drives us into the Farm Stand first.
Inside, there are organic vegetables that were grown right outside, donuts and pies baked on-site in Didier Farms' own bakery, and hordes of candy, jams, apples (both fresh and candied), and Halloween decorations. I head to the fresh apples; there are ten different types for sale. All the apples are brought in from Michigan every week. The apples are stored in a refrigerated room and are hand-inspected before being set out in bushels for you, the shopper, to select. Above each basket is a sign that details what type of apple it is, the flavor it has, and whether it's good (or bad) for baking, eating raw, or topping salads.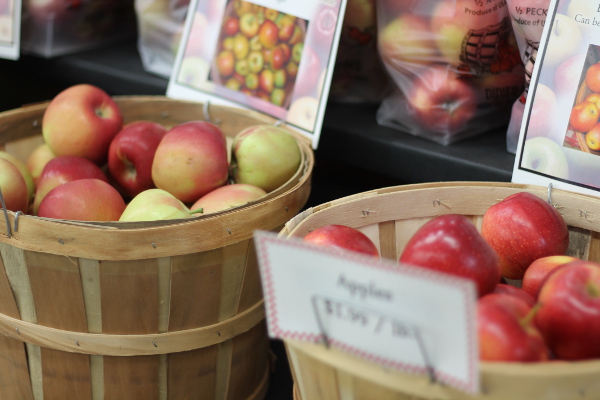 Granny Smith – A tart apple that is great for eating fresh, cooking, and salads. Makes a wonderful apple soup!
Gala Red – This sweet apple is best for eating and salad; use it to make the best applesauce.
Fuji – These apples are excellent for baking as they hold their texture. They are known for their syrupy sweetness.
Macintosh – Sweet-sour and very aromatic, this apple is great for eating and baking.
Goldens – This apple is sweet and juicy, a great choice for drying, baking, and making cider.
Red Delicious – Crunchy and mildly sweet, these are best for eating fresh. They are not a good choice for cooking.
Cortland – These are slow to brown when cut so they are great for garnishes and fruit kabobs; best for eating, salads, sauce, pies, and baking.
Mutsu – This is a cross between Golden Delicious and Indo apples. It's an excellent snacking apple and also good for baking, salads, and sauces.
Jonathan – The spicy tang of this apple blends well in sauces and ciders; it's also suitable for fresh eating and salads.
Ida – A great cooking apple! This apple has a very tart flavor.
We poke around the market for a good while, picking up ingredients for various recipes we are planning to make in our test kitchen. Along with pounds of apples, we also grab kale, sweet potatoes, onions, corn, and peppers. (We couldn't resist the freshly made apple cider donuts and caramel apples so we grabbed a few of those, too.)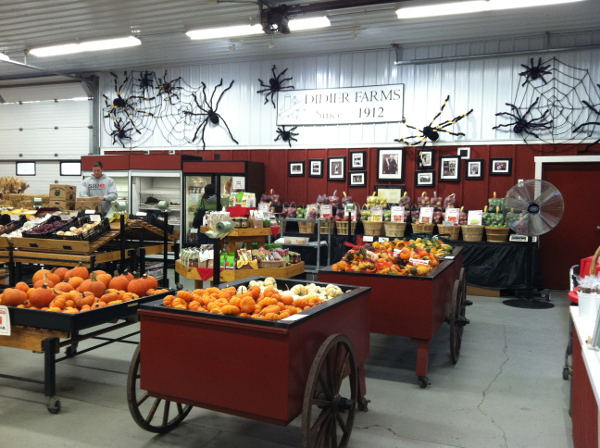 After double-checking our lists, we pay for our fruits and veggies and head back outside. The sun is shining now, and it's much more pleasant to walk around the farm. We grab a wagon and set out to find the perfect pumpkins for our recipes; they are the last things we need. As we walk around, we meet a couple of adorable pigs, some camels, and a dozen chickens. There is a larger, more exotic petting zoo, but you have to pay to go in so we keep moving.
When we come upon the pumpkins, we are a little perplexed as to which ones to pick. What pumpkins are best for baking and cooking? Did some have seeds and others none, like watermelons? What about the white pumpkins? Luckily, the people at the Didier Farms are more than happy to answer our questions and help us pick out the best pumpkins.
If you are looking for a pumpkin to cook with, there are ones called "pie pumpkins" that you should look for (shown below). These are smaller than the traditional carving pumpkins and are sweeter when they are cooked. The white pumpkins are mostly used for decorations and are typically not eaten. When choosing what pumpkin to buy, be sure to pick it up before deciding. Some pumpkins may look the same but one may be heavier than another. The heavier the pumpkin, the more flesh and seeds there are inside. This is important if you are making pumpkin puree for pies or soups. Typically, a four to six pound pumpkin yields about two to three pounds of puree. Be sure to take note of how much puree you'll need before you head to the farm.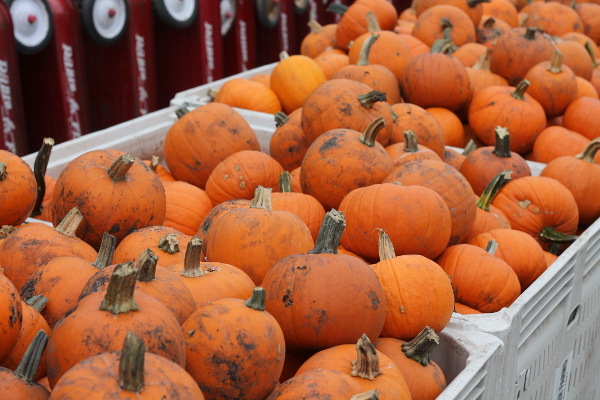 Did you know these facts about pumpkins?

Pumpkins are a fruit! The seed bearing part of any flowering plant is called its fruit. A pumpkin has its seeds in the middle; therefore, it is a fruit.
Pumpkins contain potassium and Vitamin A.
Their size can range from less than a pound to over 1,000 pounds.
They were once recommended for removing freckles and curing snake bites
After we pay for our pumpkins, we say goodbye to our new friends (both human and animal) at Didier Farms and headed back to the office. Be sure to keep an eye out for new recipes! Each editor will cook or bake a recipe using the farm fresh produce that they purchased and will post them right here on RecipeChatter.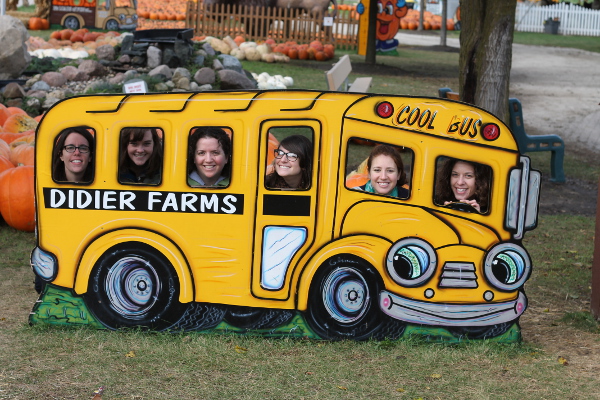 Do you buy local produce?
Latest posts by FaveGlutenFreeRecipes
(see all)