Enjoy all of the warm, comforting flavors of fall in this Pumpkin Spice Fudge recipe! The easy dessert recipe comes together in just minutes, thanks to help from your microwave!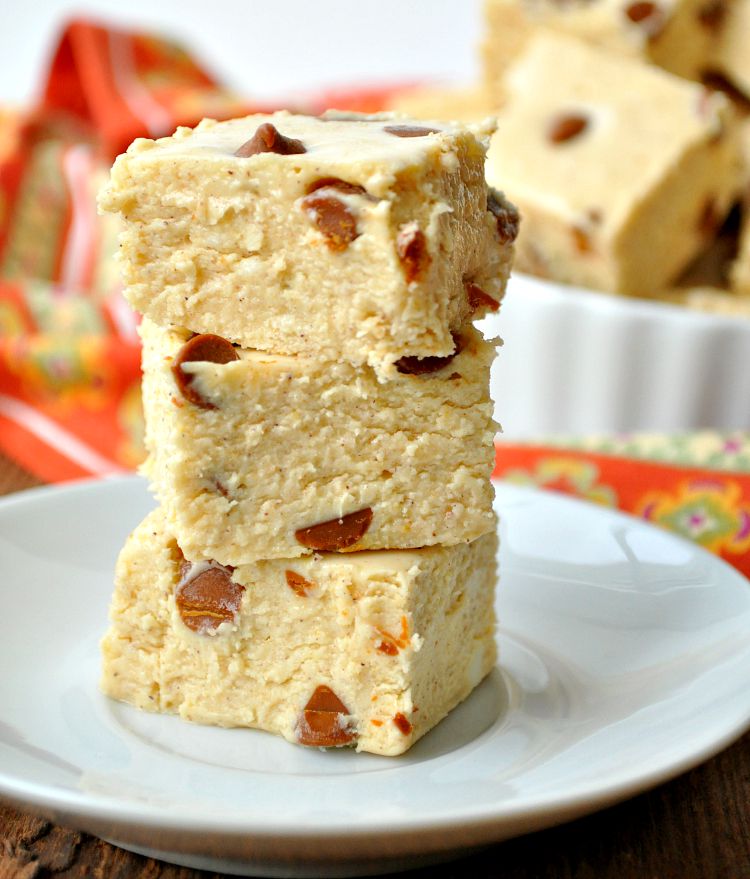 Hi, friends! I'm so happy to be back with you this week from The Seasoned Mom to share another easy and delicious fall recipe. If you hadn't noticed by now, I love to find simple short-cuts that will save me time in the kitchen so that I can focus my attention on my family, my friends, and all of the other fun adventures that fall has to offer. But just because a recipe is fast doesn't mean it should be short on flavor!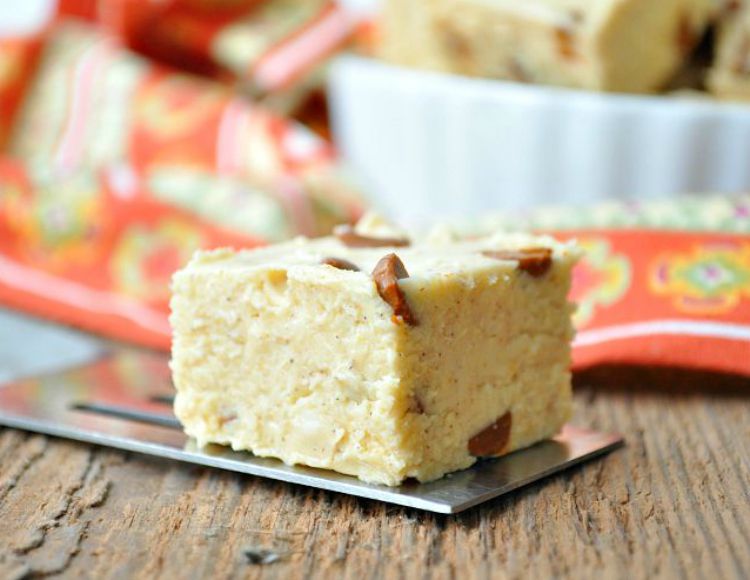 I'm one of those people who LOVES anything and everything pumpkin-flavored and I seem to buy it all at the grocery store at this time of year. In fact, my pantry is full of pumpkin cereal, pumpkin spice coffee, pumpkin yogurt, pumpkin hummus, pumpkin granola bars…you get the idea! So naturally, when I was trying to decide on a sweet treat to share with you guys today, the obvious choice was something (anything) with a pumpkin twist!
I love that this easy fudge comes together in my microwave so it's quick to prepare, it's fool-proof (even my kids can do it), and it tastes delicious every time. This is a great little hostess gift for Fall parties, for Thanksgiving overnight guests, or for a dessert buffet. Trust me: it will disappear FAST!
Pumpkin Spice Fudge Recipe
Makes about 2 pounds
Prep 5 mins
Cook 2 mins
Ingredients:
1 teaspoon butter or cooking spray
1 (16 ounce) can vanilla frosting
3 cups white chocolate chips
¼ cup canned pumpkin puree (unsweetened)
1 teaspoon pumpkin pie spice
¼ teaspoon salt
½ cup (3 ounces) cinnamon chips (or you can use additional white chocolate chips)
Instructions:
1. Line an 8-inch square pan with foil and grease the foil with butter or cooking spray; set aside.
2. In a large microwave-safe bowl, combine frosting, white chocolate chips, pumpkin, pumpkin pie spice, and salt. Cook in microwave until melted and smooth. Microwaves vary, but I cooked mine for about 1 minute, 30 seconds total (stirring every 30 seconds).
3. Cool for about 5-10 minutes.
4. Stir in cinnamon chips.
5. Transfer to prepared pan.
6. Cover and refrigerate until firm.
7. Using foil, lift fudge out of pan. Discard foil, cut into 1-inch squares. Store in an airtight container in the refrigerator.
Looking for more delicious fudge recipes? Try Magic 2-Ingredient Cookie Butter Fudge or any of these 21 Best Loved Recipes for Fudge!
Will you make this fudge recipe?
Latest posts by Blair Lonergan
(see all)