Today's guest post comes from Judy Hannemann from The Midnight Baker.
Once thought of as a "ladies luncheon dish," quiche has long since shed that classification and has become an often-seen dish on many family tables. Quiche is very versatile.  It can be a dinner dish, a lunch dish or even a breakfast depending on the ingredients. For instance, breakfast quiches may contain ham, sausage or bacon, and omit vegetables while luncheon and dinner quiches tend to include them.
The base of every quiche is a simple custard and a crust of some sort.  Mostly a standard pie crust is used, and any recipe will do.  The custard is merely a cup of milk or cream and 3 to 4 eggs.
Maybe the best thing about a quiche is how economical it is.  With rising grocery prices, no one wants to throw out any leftover food.  When it's estimated that the average family of 4 throws away around $800 of food per year, a quiche may be the perfect way to cut your losses.  Plus, it's a good way to use up all those odds and ends that may not be enough for a single serving.  What can you do with that 1/4 cup of leftover broccoli?  Include it in a quiche, of course!
Here's one I did using up all those bits and pieces I had in the fridge that I'd only end up either forgetting about and/or discarding.  Here's the recipe for the one I made:
Basic Quiche (aka "Clean the Fridge Quiche")
1 cup milk or half and half
4 eggs
1 cup shredded cheese
1 single unbaked pie crust
ANY fillings you like
Fit pie crust into a 10-inch quiche or tart pan (if using frozen pie shell, eliminate this step), pressing up the sides.
Beat 4 eggs & add milk.  Beat well and add salt and pepper to taste–usually 1/4 tsp pepper and 1 tsp salt.  Add any variety of shredded cheese.  I used classic Swiss in this as I had a block already open.  Set aside.
Spread the fillings of your choice over the bottom of the pastry shell.  I used a bag of wilted baby spinach, some sliced mushrooms, bacon, and ham.  Pour custard/cheese mixture over top.  Sprinkle with Parmesan cheese if desired.
Bake at 350 degrees for 35 to 40 minutes, or until knife inserted near center comes out clean.  Remove from oven and let stand for 5 min before slicing and serving.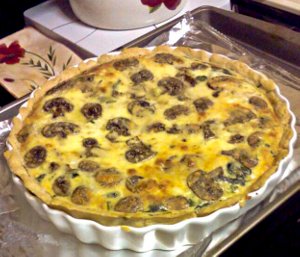 And here's a slightly different one from a friend: Sylvia's Quiche.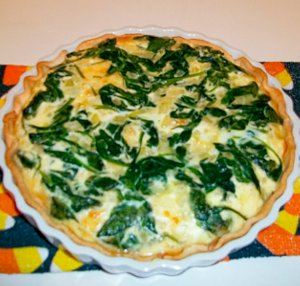 A few from AllFreeCasseroleRecipes:
Spinach Quiche with Bacon                                         Cowboy Quiche
An offshoot of the quiche is the torta.  Hearty and filling, tortas are most often made like cheesecakes in springform pans and usually do not include any crust.
I've experimented with both in my kitchen, particularly tortas, after having one of the most heavenly ones I've ever tasted at a neighbor's lunch party.  And despite the joke way back when, real men DO eat quiche!  My neighbor's husband, who originally balked at having to eat the leftovers of this for dinner, devoured it and asked her to make it again.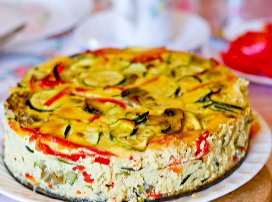 While the torta my neighbor made uses a relatively rich custard, those I experimented with used ricotta, eggs and a small amount of cream and the result was delicious and filling.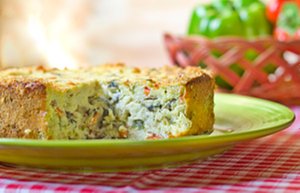 Whatever your individual tastes, quiches and tortas may be customized.  So get creative and start using your leftovers!
What's your favorite type of quiche?
Latest posts by AllFreeCasseroleRecipes
(see all)