When it comes to quick and easy desserts, you really can't do better than a light, refreshing dessert lasagna. This spring, we're dreaming of sweet recipes like this Vanilla Dessert Lasagna, straight from our test kitchen. Vanilla lovers, your time has come!
This easy dessert recipe layers vanilla pudding, whipped cream, cream cheese and delectable toppings like pecans and white chocolate over a sweet vanilla cookie crust. We're fairly certain this dessert lasagna is what dreams are made of! Whether you're celebrating Mother's Day, throwing a baby shower or bridal shower, or just celebrating the good weather, this is spring's must-have dessert. Vanilla is a great palette cleanser and goes well with most entrees, so you can't go wrong! Kids and adults will love it, and it would certainly go over well at a potluck.
What inspired this sweet escape? Our Banana Split Lasagna has long captivated our readers by combining the ease of a dump dessert with a popular flavor combination. We thought we'd create another version in a more classic flavor. Once you try this easy dessert recipe, you may wonder what you ever did without dessert lasagnas. If you can't get enough, check out this recipe even even more quick, easy, and delicious dessert lasagnas with their collection of dessert lasagna recipes!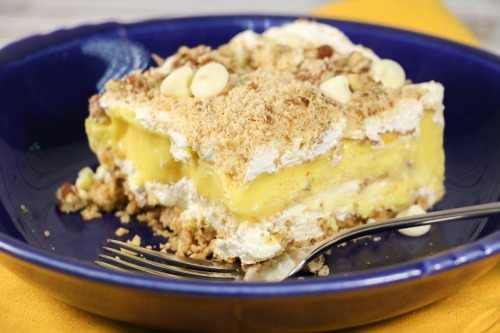 Quick and Easy Vanilla Dessert Lasagna
Serves: about 15
Ingredients
1 (11 ounce) box vanilla-flavored wafer cookies
1 cup chopped pecans
6 tablespoons melted butter
8 ounces cream cheese
¼ cup sugar
2 Tablespoons milk
3 cups whipped topping (cool whip or homemade), divided
2 (3.4 ounce boxes) French Vanilla flavored instant pudding
3 ¼ cups cold milk
½ cup white chocolate bits or pecan halves for garnish
Note: Use your favorite nuts here, but if you don't wish to use nuts, simply omit them – there will be enough cookie crumbs to make the layers. You may substitute graham cracker crumbs – you will need 4 cups total.
Instructions
1. Preheat oven to 350º.
2. Place cookies in a food processor to crush into crumbs or place into a plastic bag and roll with a rolling pin. Add pecans and stir. Remove 2 cups of the mixture and set aside. Add melted butter to the remaining crumbs and stir well. Press into a 9 x 13 bake dish and bake for 10 minutes, then cool completely.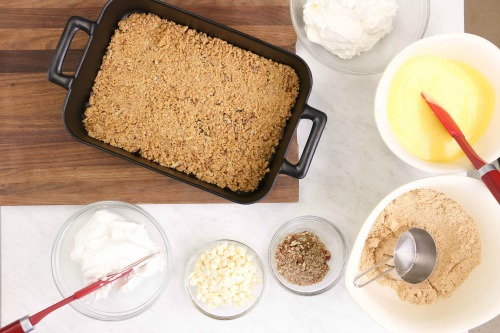 3. Meanwhile, whip the cream cheese, sugar and milk until smooth and creamy. Fold in half of the whipped topping. Prepare the vanilla pudding by combining with the milk and stirring until completely mixed and smooth.
4. Once the bottom layer is cooled, spread the cream cheese mixture over the base.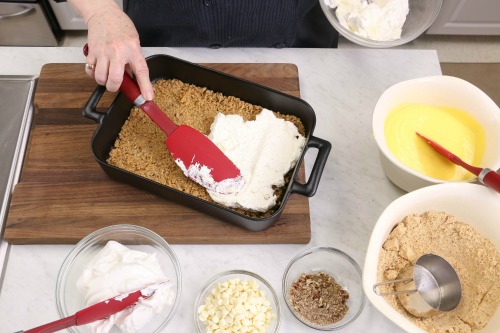 5. Sprinkle on about 1 cup of the remaining crumb mixture.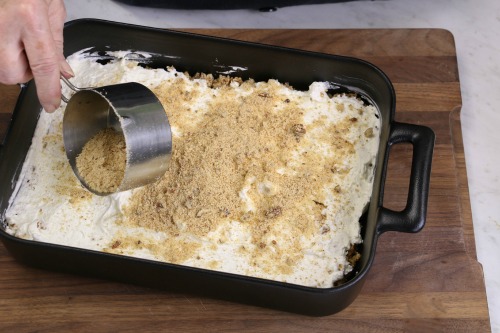 6. Carefully spoon the pudding mixture over the crumbs, then the remaining whipped topping.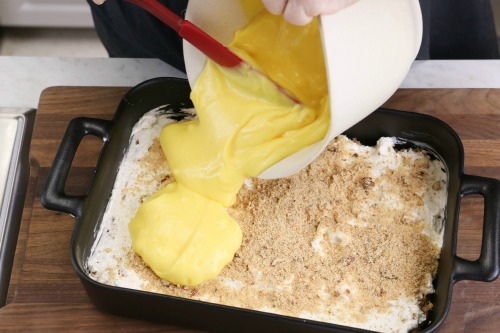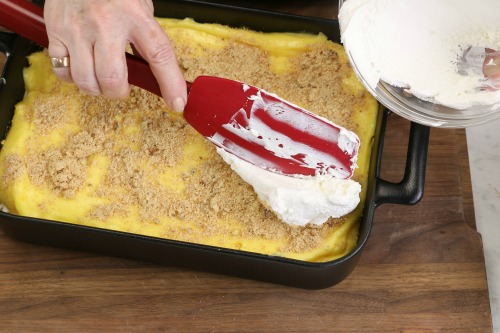 7. Finish with the last cup of the crumbs and add white chocolate bits or whole pecans for garnish.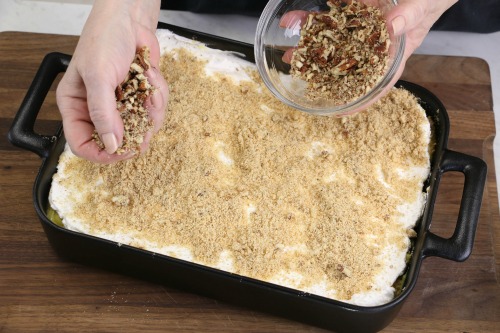 8. Cover with plastic wrap and chill at least 4 hours or up to 12 hours before serving.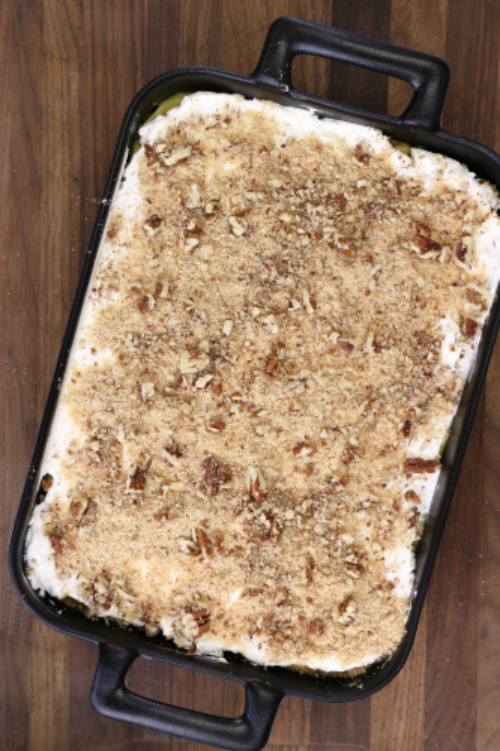 ---
Yum! Don't forget to check out Banana Split Lasagna, if you enjoyed this recipe.
---
What's your favorite flavor of dessert lasagna?
Let us know in the comments!
Latest posts by TheBestDessertRecipes
(see all)