Print This Post
With Thanksgiving right around the corner, we've all got turkey on the brain! Tomorrow is the biggest cooking day of the year, but chances are the family is already in town today and you'll need something for tonight. You don't want to cook, you'll be getting enough of that tomorrow. You don't want to go out to eat, you've got to save money for those Black Friday sales! So what do you do?
Enter this recipe for "Four-Ingredient OMG Chicken". This recipe is from our new RecipeLion's 103 cook book series, Everyday Dinner Ideas: 103 Easy Recipes for Chicken, Pasta, and Other Dishes Everyone Will Love. This book is full of phenomenal dinner ideas, but this four-ingredient chicken has become a favorite in our house!
This is perfect for any night of the week that you don't have the time (or the energy) to throw together a big meal, but still want something satisfying. You can prep this in five minutes and have it done in twenty – it doesn't get any easier that that!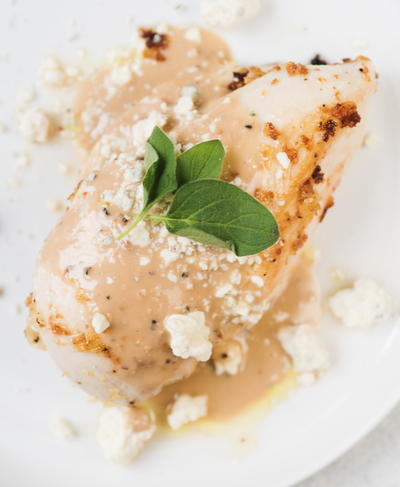 Four-Ingredient OMG Chicken
Serves: 2
Preparation Time:5 min
Cooking Time: 20 min
Ingredients
2 boneless, skinless chicken breasts
1/4teaspoon salt
1/4teaspoon freshly ground black pepper
1 cup Caesar dressing
1/4cup crumbled feta or blue cheese
Chopped fresh oregano
Instructions:
Preheat the oven to 400°F. Line a baking sheet with parchment paper and place the chicken breasts on the baking sheet. Sprinkle both sides with salt and pepper. Bake for 20 minutes.
Remove the chicken from the oven. Pour the Caesar dressing on top and sprinkle with the cheese and oregano. Serve.
For even more easy dinner ideas…

Don't miss our new eBook Everyday Dinner Ideas: 103 Easy Recipes for Chicken, Pasta, and Other Dishes Everyone Will Love. The book is available for purchase on November 28th, 2017 – but you can pre-order your copy NOW!

Make a pre-order for your copy part of your Black Friday haul on Amazon or at Barnes & Noble.
RecipeLion is dedicated to the best recipes and cooking tips. From quick and easy dinner recipes to new and exciting dessert recipes, we find and deliver the best recipes from all over the web. Plus, we feature free product reviews and giveaways of all the latest and greatest products including cooking gadgets, cookbooks, food, and more. RecipeLion is a wonderful online resource for cooks of all skill levels.
Latest posts by RecipeLion (see all)
Print This Post