Print This Post
Since I have begun working with TheBestDessertRecipes.com, my cookie knowledge has grown exponentially. So much so that I now consider myself to be a connoisseur of sorts. For this reason I feel that I am more than qualified to compare people to baked goods. So if you trust my cookie competence, take this quiz to find out which cookie recipe you are. If you get a recipe that you like, try making it yourself. Don't like the cookie you have become? Try any of the bonus recipes associated with your personality, or check out the cookie recipes at TheBestDessertRecipes.com. So go on, give it a shot, I promise I only have sweet things to say.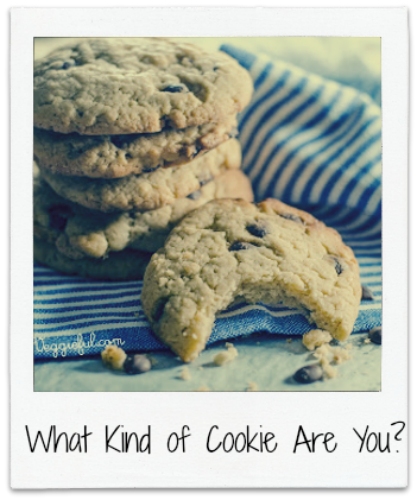 What word best describes your personality?
A) Shy
B) Outgoing
C) Strong-willed
D) Scatter brained
E) Observant
You are spending a night out with your closest girl friends when they decide to go to a karaoke bar. You…
A) Don't have any girl friends to go out with.
B) Are the first one up on the stage singing your favorite Celine Dion song.
C) Wouldn't be caught dead anywhere but your secret bar downtown.
D) Grab all of your  girls and bring them on stage for an extremely enthusiastic  rendition of  "Girls Just Want to Have Fun."
E) You politely clap as your friends finish yet another song, then signal the waiter for another drink.
You are enjoying a day of shopping at your favorite department store, and see that pair of pumps you've been eying for months has finally been marked down. You begin your sprint to the final pair in your size when they are intercepted by another woman. You…
A) Silently begin your retreat out of the store.
B) Begin chatting, exchange numbers, and make dinner plans at that amazing restaurant downtown. What pumps?
C) Never shop anywhere but the cute vintage shop down the street.
D) Think this quiz is bogus. Who has the time to shop all day?
E) Smile and chat to her until you find out what her next purchase will be, then make sure to find it and buy it before she has a chance. Take that!
You finally have the chance to relax and watch some television. You turn on the TV to find that your favorite movie is on. You think…
A) "Yes! Perks of Being a Wallflower is on!"
B) "AHHHH Mean Girls is on! I am so Regina George before she got hit by the bus."
C) "Finally, cable is beginning to show great films produced by excellent, independent filmmakers."
D) "I wish I could sit down and watch this, but I have that dinner with Tom , then I have to prepare for tomorrow's meeting…"
E) "Wow, I haven't seen How to Lose a Guy in 10 Days in forever!"
Now tally up your responses. Are you mostly A's, B's, C's, D's, or E's?  Read on to find out if you truly are the cookie you always thought you would become.
If you are mostly A's:
You are the Perfect Chocolate Chip Cookie
You are the Perfect Chocolate Chip Cookie. You are simple, sweet, and low-key. You have a tendency to be a little shy, so sometimes you are overlooked when at large party or bar. But when you are in a smaller group or one-on-one with someone else you absolutely shine. You have a simple style, and a timeless personality. All those who have the pleasure to get to know you are blown away by your intelligence and great sense of humor.
Other cookies that fit your personality:
Soft and Simple Lemon Sugar Cookies
The Best Snickerdoodle Cookies From JacquelynClark.com
If you answered mostly B's:
You are a Fully Loaded Cookie
You are a Fully Loaded Cookie. You are always filled with energy, and exude confidence. You are an extrovert and never miss a chance to be in the spotlight. Your personality is infectious, but can be overwhelming at times. You are trendy and spontaneous, keeping those who know you on their toes. With you there is never a dull moment.
Other cookies that fit your personality:
Funfetti Shortbread Cookie Sandwiches From ShugarySweets.com
If you answered mostly C's:
You are a Chocolate Strawberry Cookie Cup
You are a Chocolate Strawberry Cookie Cup. You are unique and refreshing. You are very intelligent and opinionated which can be a dangerous combination at times. You like to eat well, and may even be vegan or paleo. You enjoy living simply, straying from the pack, and doing what you love without fear of judgement.
Other cookies that fit your personality:
Cookie Dough Bites From ASliceofStyle.com
If you answered mostly D's:
You are a No-Bake Chocolate and Coconut Drop Cookie
You are a No-Bake Chocolate and Coconut  Drop Cookie. You are fiercely independent and hard working. A girl on the go, you don't have time to devote to many leisurely activities. You are extremely ambitious and goal-oriented. When you do find time to do the things you love, you really loosen up and have a great time. Though you keep your composure in the office, those who truly know you know just how fun you can be.
Other cookies that fit your personality:
2-Ingredient Pumpkin Cake Cookies
No-Bake Oatmeal Raisin Cookie Dough Bars From PumpkinHoney.com
If you answered mostly E's:
You are a Brown Butter Pretzel M&M Cookie
You are a Brown Butter Pretzel M&M Cookie. You are sweet and salty, the best of both worlds. All those who meet you absolutely adore you, but those who know you best know never to get on your  bad side. You are a blast to be around, and are usually seen with a large group of friends. You are both witty and intellectual, and keep people guessing.
Other cookies that fit your personality:
Salted Caramel Dark Chocolate Cookies
Pretzel, Potato Chip, and Chocolate Chip Cookies From MamasGottaBake.com
Are your results as sweet as expected? Tell us what cookie you got in the comments!
TheBestDessertRecipes is dedicated to the best dessert recipes and baking tips. From easy cookie recipes to recipes with cake mix, we find and deliver the best desserts from all over the web. Plus, we feature free product reviews and giveaways of all the latest and greatest products including baking gadgets, cookbooks, food, and more. TheBestDessertRecipes is a wonderful online resource for bakers and dessert enthusiasts of all skill levels.
Latest posts by TheBestDessertRecipes (see all)
Print This Post