The only thing to make a home-cooked Italian dinner more delectable is when you're working with the best tools on the market. That's how we made this utterly mouthwatering, authentic Italian pasta dish, made with a savory marinara sauce that will make even professional chefs smack their lips.
Swiss Diamond is known for the finely crafted cookware. They make a range of pots and pans to suit different recipes and cooking needs. We had the opportunity to use their Stainless Steel Dutch Oven in our test kitchen, and we couldn't be happier with how our recipes came out! The stainless steel material makes caramelizing ingredients easy, allowing flavors to fully develop. The size of the pot makes it fantastic for using to make fried chicken recipes, stews, and—you guessed it—pasta recipes.
Italian-Style Mushroom Marinara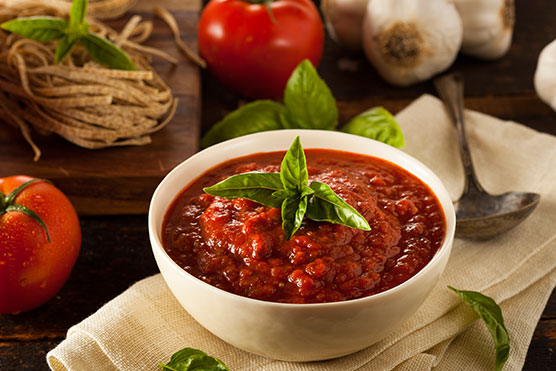 Ingredients:
1/3 cup extra virgin olive oil
1 finely chopped large yellow onion, (about 1 1/2 cups)
6 fresh garlic cloves, pressed
6 medium tomatoes, diced
2 (15 oz) cans diced tomatoes
1 cup Red Wine
1/2 tsp Italian Seasoning
1 Tbsp Kosher Salt
1/8 tsp red pepper flakes
1/8 tsp black pepper
1 lb fresh mushrooms, rinsed, dried, sliced
1 cup fresh basil, chifonade
Instructions:
Heat a Swiss Diamond Dutch Oven or Stock Pot over medium heat. Add olive oil and sauté the onions and garlic until softened and fragrant. About 5 – 8 minutes.
Roughly chop tomatoes then add to the pot along with the diced tomatoes with juice. Bring to a boil uncovered over med/high heat for 15 mins, stirring occasionally.
Add next seven ingredients through black pepper to pot, boil another 5 minutes, stirring occasionally.
Pulse a few times with an immersion blender to desired consistency. Ideally you will still have some tomato chunks.
Add fresh sliced mushrooms and fresh basil and simmer uncovered for 20-25 minutes or until the mushrooms are soft and cooked in.
Enjoy over your favorite pasta!
What's your favorite Italian dish?
Latest posts by FaveSouthernRecipes
(see all)