Print This Post
First off, we here at RecipeLion.com want to thank you all for being such loyal fans of our site.  You've really helped us grow, especially in the past year!   We've had a lot of success with our email newsletters (if you're not subscribed yet, you can sign up right here for our Quick and Easy Recipes e-newsletter!).  You can see from the graph below that 41% of our email newsletter readers say they never miss a single issue, and 36% said they read the newsletter 2 to 4 times per week.  That's great!
But it's not just about the newsletters.  In case you didn't know, we're on social media too… and we've developed quite the community!  From Pinterest to Twitter to Google+ and, of course, Facebook (how could we forget Facebook?!), our RecipeLion fans and followers are quite the loyal bunch.  We share tons of great recipes, cooking tips, funny food cartoons and so much more.  If you haven't joined us yet, come hop on board… we'd love to have you!  As you can see below, our Facebook community especially is growing at a crazy rate. We now have over 42,000 Facebook fans who love to chat with us and each other…. it's a great place for foodies to form a little community and talk shop.  If you love cooking and discovering new recipes, you should definitely become our newest Facebook fan!
Finally, we wanted to tell you about a little survey we conducted where we asked readers like you what they like about RecipeLion and what they want to see more of.  Here's what we found out:
Find out more about your fellow RecipeLion fans here: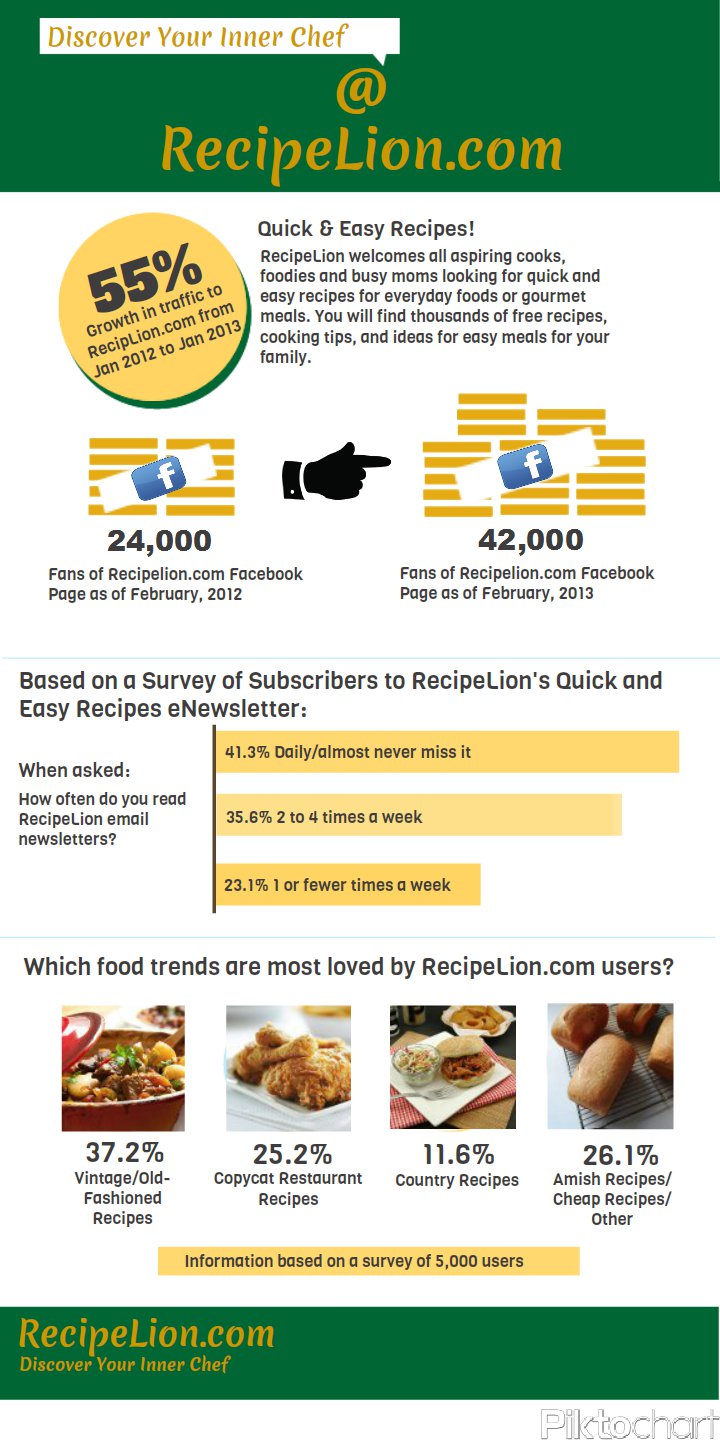 So tell us: What would you like to see more of on RecipeLion.com in the future?
RecipeLion is dedicated to the best recipes and cooking tips. From quick and easy dinner recipes to new and exciting dessert recipes, we find and deliver the best recipes from all over the web. Plus, we feature free product reviews and giveaways of all the latest and greatest products including cooking gadgets, cookbooks, food, and more. RecipeLion is a wonderful online resource for cooks of all skill levels.
Latest posts by RecipeLion (see all)
Print This Post