RecipeLion's Resident Chef, Addie Gundry, appeared on Good Day Chicago Monday morning to discuss her appearance on Food Network Star. She discussed how her time working at Prime Publishing creating cookbooks helped prepare her for competing on the show. Addie showed the hosts how to make the Vanilla Beach recipe from No-Bake Desserts: 103 Easy Recipes for No-Bake Cookies, Bars, and Treats and discussed how it could be utilized for summer festivities.
Gundry is the author of RecipeLion's upcoming cookbooks, No-Bake Desserts and Family Favorite Casserole Recipes: 103 Comforting Breakfast Casseroles, Dinner Ideas, and Desserts Everyone Will Love. She appeared on QVC's Cooking with David last Wednesday to provide a sneak peek of a few of the recipes from the cookbooks. The cookbooks will be released on July 4, 2017 and are currently available for pre-order on Amazon and Barnes & Noble.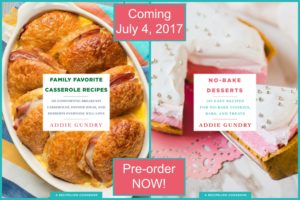 RecipeLion is also hosting the Summer Potluck Challenge where readers submit their best potluck recipes. The RecipeLion team will choose the top ten, and readers will vote for one grand prize winner to be flown to the Chicago office to cook with Addie.
Food Network Star is currently airing on Sundays at 9pm ET/8pm CT on the Food Network. The second episode of the week aired this past Sunday.
Latest posts by RecipeLion
(see all)