Growing up, my mom always had homemade treats in the house. They were usually either brownies or cookies, and they were great to come home to after a busy day at school. I'd walk in the door and grab a treat before starting on my homework. That's why I'm really excited about AllFreeCasseroleRecipes' new collection page, Recipes for Baking: 13 Delicious Bar Cookies, Brownies, and Blondies. The desserts featured remind me of my childhood, but are even better.
The recipes in this collection use all kinds of goodies, such as chocolate, peanut butter, M&M's, and coconut. They really are a step above a plain brownie or simple chocolate chip cookie bar. Plus, you don't have to spend time forming balls and swapping cookie sheets. All you have to do is throw the ingredients together and bake it. One pan. One cooking time. Are you hooked yet? Enjoy a sneak peek of the recipes below, and check out Recipes for Baking: 13 Delicious Bar Cookies, Brownies, and Blondies to see the entire collection.
Easy to make. Easy to eat. 
Caramel Swirled Pretzel M&M Blondies: There's no turning one of these down. They're filled with caramel, pretzel M&M's, and chocolate chips. That's a triple threat in my book.
Fluffer Nutter Bars (pictured): Peanut butter and marshmallows are a great combination. I've even made a sandwich out of it, and it was delicious. But back to the bars. They make a great dessert to put in a kid's lunch, and adults love them, too.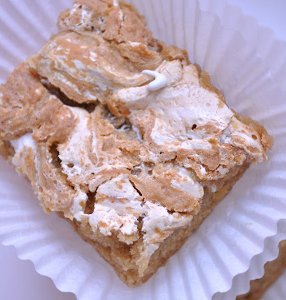 Ooey Gooey Magic Cookie Bars (pictured): Chocolate chips, butterscotch chips, coconut flakes, and nuts bring magic to these cookie bars. All are situated on a graham cracker crust. How delightful is that!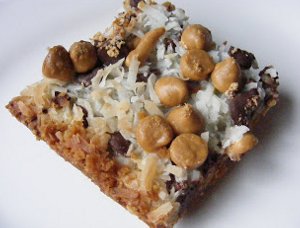 Skillet Brownie Pie: It's time to break out your skillet, and not for browning ground beef. Skillet Brownie Pie is one monstrous brownie that's got pecans in the batter as well as sprinkled on top. Enjoy your slice with a scoop of ice cream if you want to be really fancy.
Bonus Recipes
These bars aren't included in the collection page, but are still noteworthy.
Chubby Hubby Bars: This copycat dessert takes everything you love about Ben & Jerry's Chubby Hubby Ice Cream and puts it into a blondie. Pretzels, chocolate chips, and Reeses peanut butter chips are the stars of the show.
Cake Batter Blondies (pictured): This recipe comes to us from the blog, Cookies & Cups. How good do they look, right? White chocolate chips and mini marshmallows are mixed into a Funfetti cake mix. Frost with a marshmallow frosting. Don't forget the food coloring!
Which do you like better, brownies or blondies?
Latest posts by AllFreeCasseroleRecipes
(see all)