Fall is not only a time for apples and pumpkins galore, but also a time to take action. October is Breast Cancer Awareness Month. The month may be in full swing, but that doesn't mean it's too late to do your part in raising awareness. Why not get the word out in the most delicious way? Few things catch people's attention quite like a brightly colored array of food and drinks. From cupcakes to lemonade to salad, here are a few of our favorite pink recipes. Plus, with a slew of breast cancer walks coming up, these pink treats will be the perfect fuel.
1. Homemade Pink Lemonade – This refreshing drink is made from the juice of freshly squeezed lemons. Can you guess what ingredient makes this lemonade pink? Click on the recipe to find out.
2. Pink Lemonade Confetti Cupcakes – This fun dessert is totally guilt-free and super simple to make.
3. Chocolate Raspberry Whoopie Pies – Sweet raspberry flavor in every bite. Not only is the luscious cream cheese filling made with raspberry jam, but the chocolate cake has a hint of raspberry in it, too.
4. Sweet Strawberry Cool Whip Cookies – These cake mix cookies are ridiculously easy and are sure to satisfy every sweet tooth.
5. Heavenly Strawberry Mousse – This to-die-for dessert recipe is the heavenly combination of light, fluffy and creamy.
6. Strawberry Cream Cupcakes – These pretty-in-pink cupcakes are super moist and yummy.
7. Strawberry Cheesecake French Toast Casserole – Who doesn't love eating dessert for breakfast? This overnight baked french toast is the perfect sweet treat to wake up to.
8. 10-Minute Watermelon Salad – When searching for a delicious alternative to your average garden salad, whip up this 10-Minute Watermelon Salad. This healthy fruit salad is sweet, refreshing and packed with juiciness. Top it off with a fig balsamic dressing, and this will please a crowd.
9. Basic Poached Salmon from Simply Recipes – Eating a diet rich in Omega-3s is essential for healthy living. It has been known to help brain and heart function and lower the risk of heart disease and cancer. Salmon is not only an excellent source of Omega-3s, but also high in protein, vitamins, and minerals. Make poached salmon for an easy and delicious way to get those nutrients into your body.
10. Kale and Pink Grapefruit Salad from Two Peas and their Pod – The pink  fruit is full of immune-system-boosting vitamin C, which is good for preventing cold weather ailments! Citrus, in addition to kale and avocado, makes this salad a super healthy salad with tons of health benefits.
11. Skinny Strawberry Banana Milkshake from Sally's Baking Addiction – This smooth, creamy milkshake is made with only three healthy ingredients.
12. Minted Grapefruit Sorbet – There is something about pairing mint with grapefruit that just works so well. The two flavors blend in the most amazing way.
13. Raspberry White Chocolate Cakes – These gluten-free cakes are made with all-natural ingredients so you can indulge in a dessert without the guilt.
14. Shredded Beet Salad with Raspberry Vinaigrette – The mix of fruit, beets, and goat cheese is a fresh and winning combination.
15. Beet Pasta from The Kitchen Paper – Give your pasta more nutritional value by making it out of beets. Beets help lower blood pressure, boost your immune system, reduce inflammation, and have anti-cancer properties. The powerful phytonutrients that give beets their deep crimson color may help to ward off cancer.
16. Smoked Salmon and Cream Cheese Roll-Ups from Roxy's Kitchen – These 4-ingredient lox roll-ups take less than 10 minutes to make and are simply irresistible! They look lovely on any appetizer platter and the flavors of dill, cream cheese and smoked salmon will be sure to entice anyone's taste buds!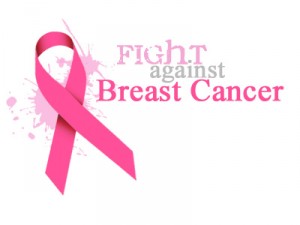 What will you do for Breast Cancer Awareness Month?
Latest posts by FaveHealthyRecipes
(see all)