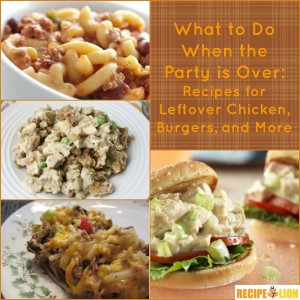 The end of the summer is a great time for large family gatherings, BBQs, and celebratory picnics. Labor Day especially is a time when you might be expected to host a crowd. It's always tricky to know exactly how much food to buy when you're cooking for a large number of people, so we usually overestimate exactly how much we need.  So, you're stuck with a bunch of leftovers from your picnic, but you have absolutely no idea how to use them creatively. Last time I threw a party, I ended up eating chips and salsa for days, and then got so tired of the leftovers that I had to throw them away. That's why I've gathered together a collection of recipes that you can make with leftovers from your most recent or upcoming BBQ – you can even plan your menu with these recipes in mind!
Each of these recipes uses a different common ingredient that you might have at a picnic or a BBQ, whether that's chicken, burgers, salsa, or baked beans, among other options. Plus, there are a few multi-purpose recipes that you can make with any sort of leftover meat, so they're really useful to keep around all year long. Don't stress about buying the perfect amount of food for your family this year! These recipes will help you use all of your food in the most efficient way possible.
Recipes with Leftover Meat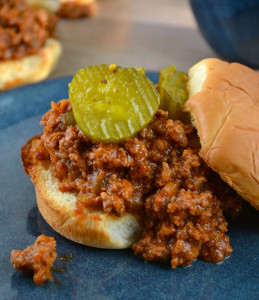 Ground Beef: Best Homemade Sloppy Joes (shown) – This sandwich is a great way to use your leftover ground beef because you can also use leftover condiments to make the sauce! Plus, sloppy joes are a family favorite weeknight dinner that everyone will love.
Chicken: Picnic Chicken Salad Sandwiches – You can use leftover chicken to make the chicken salad, or you can just use leftover chicken salad to make the sandwich. The possibilities are endless!
Burgers: Mushroom Cheeseburger with an Egg – When you're grilling for a large crowd, it's really hard to dress up a burger. Make your leftover patties fancier with toppings like Portobello mushrooms and fried eggs.
Roast Beef: Roast Beef Breakfast Hash – Who would have thought that you could eat roast beef for breakfast? This delicious recipe is a great way to use up meat originally bought for roast beef sandwiches.
Pulled Pork: Pulled Pork Nachos from Bran Appetit – Pulled pork is a staple at BBQs, but it's difficult to find recipes for the leftovers. This recipe makes a fantastic, hearty snack or even a small meal.
Any Meat: One Dish Comfort Casserole – That's right! You can use literally any kind of leftover meat you want to make this filling, one-dish meal. It's perfect for weeknight family dinners!
Recipes with Leftover Sides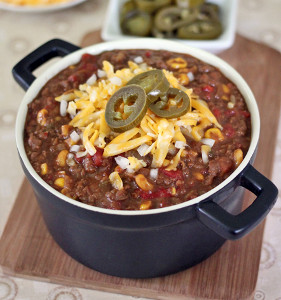 Salsa: Dollar Store Black Bean Soup – Mix your leftover salsa with some black beans and a few other ingredients for a hearty soup. Plus, the ingredients are all extremely cheap, so you'll barely spend any money making this recipe.
Macaroni and Cheese: Classic Cheesy Chili Mac – This recipe includes instructions for making the mac and cheese, so you can make it even if you don't have leftovers. But, if you do have some leftovers, just mix in the chili and you've got a reinvented meal!
Baked Beans: Cowboy Chili (shown) – If you have some delicious leftover homemade baked beans (or even extra canned baked beans), this recipe is for you. This chili is loaded with flavor.
Asparagus (or other vegetables): Cheddar Cheese and Asparagus Omelette from Culinary Hill – This particular recipe uses leftover asparagus to make a protein-packed breakfast, but you can use any other leftover vegetables that you may have in the house.
What do you do with your BBQ or picnic leftovers?
Latest posts by RecipeLion
(see all)