I love rolls that come in those cylinder containers. Those recipes, especially recipes for crescent rolls, are so easy. All you have to do is pop the container, break apart the dough at the perforations, place on a baking sheet, and, voila, you are done. However, there are more to crescent rolls than just that. If you seal all the perforations on the dough and kneed and roll the container out into one giant piece of dough, then the possibilities are endless. There is so much you can do with a container of roll dough that goes above and beyond simple bites of crescent rolls. We have recipes with crescent rolls that make scrumptious meals. These meals will test your imagination and will make you see pre-made dough in a new light. You can use that dough for a variety of different recipes. We are here to give you some of those recipes so you can make incredible meals using a tube of crescent roll dough.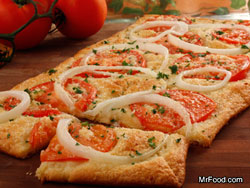 Making an entire pizza has never been easier. Using an entire tube of crescent rolls as the basis of the dough makes for one of the best recipes with crescent rolls ever. Everyone is guaranteed to love this Fresh Tomato Flatbread.  The rolls are already naturally a little bit sweet which pairs wonderfully with the veggies and seasonings that you place on top of the dough.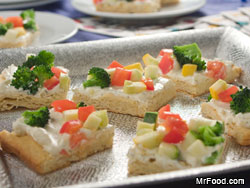 These Confetti Bites are a personal favorite of mine. I make them at every chance I can. When I threw a little New Year's Eve shindig for myself and a couple of my closest friends this year, this is the dish I made. It is perfect for parties, it is extremely easy to make, and it tastes fantastic. What I like to do is sprinkle shredded cheese on top of everything once I'm finished to enhance the flavor of this dish even more.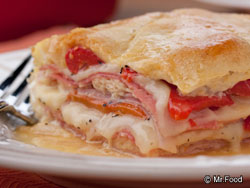 Why have a regular and ordinary sandwich when you can have an extraordinary sandwich? This Italian Layer Bake is an extraordinary sandwich. Not only are there layers and layers of fresh meat and cheese but everything is bound together with crescent roll dough.
Pinwheels are the quintessential dish to make with a tube of crescent rolls. Whenever my study group and I would get together to study for finals, this is the dish I would bring to the party. They are super easy to make and these mini treats were always finished by the time the studying had completed. These Bacon Pinwheel Rolls are so good that our study group would seem to get bigger and bigger every semester!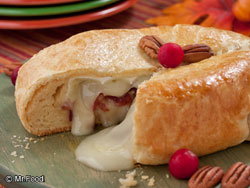 You can make recipes with crescent roll dough that are just variations on rolls or you can make this Cranberry-Pecan Brie which is one of the most incredible things you will ever eat in your entire life!  When you show off this recipe to all of your friends and family, they will be amazed at the work you were able to accomplish.
What is your favorite non-crescent roll recipe that involves using a tube of crescent rolls?
Latest posts by MrFoodTestKitchen
(see all)