You're going to be surprised when you find out how many foods you can eat gluten free. Now that awareness for gluten allergies is much greater, there are plenty of gluten free versions of your favorite foods. If you have a gluten allergy, then you'll definitely enjoy the gluten free versions more than the alternative.
The hardest part of having a food allergy is eating out, going to a dinner party, and holiday dinners. Basically, any time you aren't cooking the food yourself, there's a chance for cross contamination. When you're invited to someone's house and they ask what they can make for you (ugh, they're so nice), send them this post! They want to make you feel comfortable, so don't feel bad that they're making them something special for you. They're being the best hosts ever by making sure that all of their guests are taken care of and have something to eat.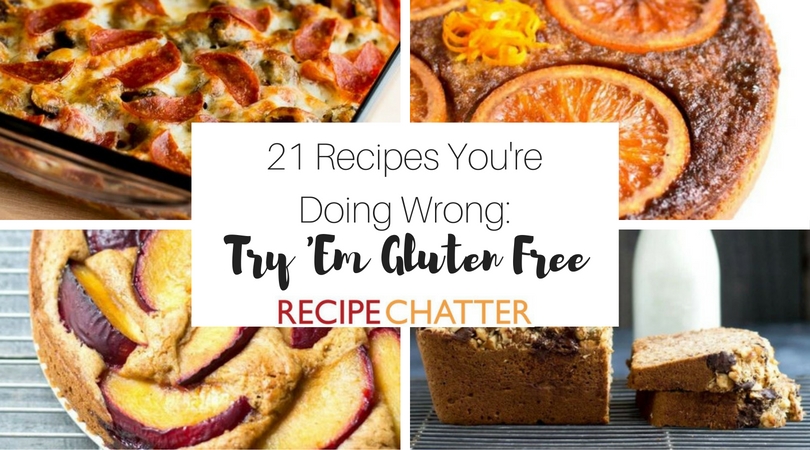 Gluten Free Cake
Cake is one of the hardest things to come to terms with when you're gluten free. You can't have your favorite cake anymore for your birthday, but luckily there are plenty of gluten free cake recipes for you to enjoy!
Gluten Free Pizza
Who needs delivery when you have these awesome gluten free pizza recipes? You know where they're made so there's less chance for cross contamination and more chances for eating delicious pizza.
Gluten Free Bread
So many people take bread for granted, and they don't realize how hard it is to find good gluten free bread. We've collected some of the best gluten free bread recipes for you to try.
Find more foods you've been eating wrong in our collection: Food You're Eating Wrong…Put 'Em in a Casserole!
What food do you wish was gluten free? Let us know below in the comments!
Latest posts by FaveGlutenFreeRecipes
(see all)