I don't know about you, but I ate way too much this Thanksgiving. And you know what, I don't even care. Thanksgiving dinner is one of the best meals of the year, and there's no way I'm going to "eat light" that day. No, I'm going to eat the turkey, mashed potatoes, sweet potatoes, green beans, bread, pumpkin pie, apple pie, and any other goodies I see.
Sadly, though, Thanksgiving is over. This means it's time to go back to eating in moderation. To help counteract your Thanksgiving Day binge, I'm sharing four recipes  from AllFreeCasseroleRecipes.com that are on the healthier side. I think you'll like them because they are both tasty and good for you.
You may not think of macaroni and cheese as a "health" food, but this version is pretty good for you. Instead of macaroni, quinoa takes center stage. This whole grain is a healthy substitute for carb-loaded pasta. A homemade cheese sauce and buffalo chicken add a "wow" factor to Buffalo Chicken Quinoa Mac and Cheese. This is a good one to try.
For another tasty quinoa recipe, check out Broccoli Quinoa Casserole from the blog, Eating Well…Living Thin. Quinoa has less carbs and more protein than rice, so this is a healthier option than an ordinary broccoli rice casserole.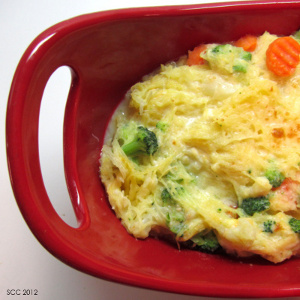 Bring on the veggies! Vegetables are always a healthy food option, and you'll get loads of them in Cheesy Spaghetti Squash Vegetable Bake. These veggies are irresistible because they're mixed with four different types of cheese. You can eat this alone as a light dinner or add it to a bigger meal. Either way, you'll love it.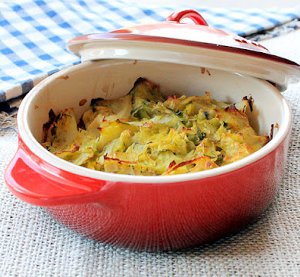 I know we have a lot of cabbage fans out there. Make sure you don't miss this one. Cabbage and Leek Gratin is a healthy side dish for two reasons. One, it's composed of cabbage and leeks, so you'll get a nice serving of veggies in this dish. Second, cream and cheese are replaced with yogurt and eggs. This substitution makes this dish even better for you.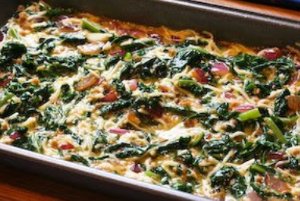 Tomorrow morning, don't reach for the sugary cereal box. Instead, try this Red Russian Kale and Onion Breakfast Casserole. Like the previous dishes, you'll get a good helping of veggies here because it's packed with Red Russian kale. Add to that a red onion and whole wheat bread, and you have a filling and nutritious breakfast casserole.
How do you recover from Thanksgiving?
Latest posts by AllFreeCasseroleRecipes
(see all)