Pasta is an easy way to cook up a filling dinner without breaking the bank. By mixing and matching different shapes into your favorite recipes, you're able to get a restaurant-worthy meal without spending all that time and money going out to someplace super fancy. With Valentine's Day just around the corner, it's time to start thinking about dinner plans for the evening. Sometimes, there's nothing more romantic and intimate than preparing a home-cooked meal, and with one of these easy pasta recipes, you'll give your favorite restaurant a run for its money.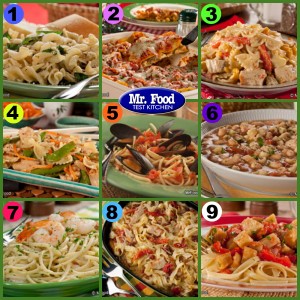 1. Easy Cheesy Italian Noodles: We love making this pasta dinner recipe because it relies on its simplicity to create an elegant dish. It's the combination of herbs and spices that really make it a standout, so be sure your spice cabinet is well-stocked!
2. The Easiest Lasagna Ever: Serve up a classic pasta dinner like lasagna alongside a basket of bread sticks and a glass of wine, and you've got yourself a can't-resist meal. Plus the best part? You'll get to enjoy the leftovers!
3. Potluck Pasta Fiesta: Chicken, veggies, noodles… what more could you want? This all-in-one dish is a reliable favorite at the dinner table, guaranteed to make everyone happy.
4. Asian Chicken Bowties: If you're one of those couples that loves going out to a favorite Asian restaurant, then you'll love this recipe for Asian Chicken Bowties. We love using the bowtie pasta for this one 'cause the shape helps capture all those spices and flavorings, making it a memorable dish!
5. Linguine with Mussels: Shellfish really help elevate a traditional pasta dinner recipe into something more romantic. You'll see that you don't have to make reservations at some fancy five-star restaurant in order to treat your sweetie to a special dinner.
6. Pasta e Fagioli Soup: If you're looking to serve up a multi-course meal this Valentine's Day, you'll want to make sure you have a homemade soup recipe on your hands. We can't think of a better one than this sophisticated Italian recipe for Pasta e Fagioli Soup!
7. Restaurant-Style Shrimp Scampi: Shrimp scampi is a mainstay on many restaurant menus, and we know that you'll love our homemade version just as much. Plus, it cooks up in only 10 minutes, so you'll have time to get it prepared when you get home from work.
8. Chicken Fettuccine Casserole: This classic chicken and pasta dinner recipe has stood the test of time for good reason… it's just that tasty! Just light a few candles, and we guarantee you'll have a romantic and relaxing evening.
9. Eggplant Fettuccine: Need a vegetarian pasta recipe for you and your sweetie? Then our Eggplant Fettuccine is the perfect choice! This pasta dinner combines all your favorite veggies into one dish, so you're guaranteed to have a filling and satisfying meal.
You can find even more of our best pasta dishes in our free recipe collection, Easy Pasta Recipes: 31 Best Pasta Recipes with Chicken, Beef, and More.

And, if you're looking for a Valentine's Day dessert recipe as the finishing touch, be sure to check out our popular Chocolate Lava Cakes!
Are you planning to cook at home for Valentine's Day, or are you planning to eat out? Let us know in the comments below!
Latest posts by MrFoodTestKitchen
(see all)