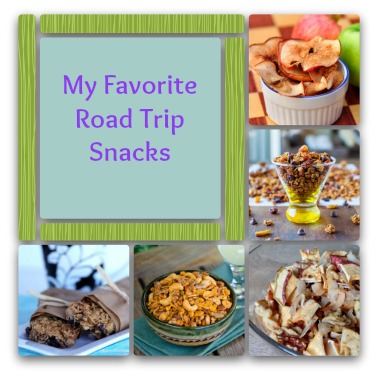 I hope you're ready because I'm really excited about these recipes. These road trip snacks have saved me on multiple occasions. You can avoid greasy fast food and unhealthy junk food with these great healthy snack ideas. These snacks won't make a mess in your car, and you won't have to deal with cleaning dirty dishes. You'll absolutely love these road trip snacks, and they may even make that long car trip a bit more enjoyable.
Alright, story time. I have a love/hate relationship with car trips. I love them because it means that I can get out of town and take a vacation. However, I hate them because I don't enjoy being cooped up in a car that's packed solid. When I was a kid, my family hardly ever flew. My parents always opted to take a twenty hour car ride instead of a quick plane trip. Because we'd be traveling across the country, my parents believed that any open space in the car is an opportunity to pack more. They'd pack the five of us, our two dogs, seven suitcases, four coolers, three boxes of Lego's, two bins of shoes, one full bedroom set, and a partridge in a pear tree.  Then they'd try to fit it all in our small Volkswagen Jetta. The only thing that saved these trips were my mom's fantastic road trip snacks that she always packed. Here are a few of my favorite treats, including nut mixes, granola recipes, and healthy chocolate treats, that are just like what my mom would pack.
Great Granola Recipes
Granola tends to be a rather boring snack. But, you wouldn't dare to call these granola road trip snacks boring. They'll be sure to brighten any trip.
Chocolate Lover's Granola (shown right)
Pumpkin Spice Peanut Butter and Chocolate Chip Granola
Favorite Nuts and Mixes
These healthy nuts and trail mixes are perfect for a car snack. They won't leave a mess unless you decide to chuck some at your brother's head… but that's a story for another day.
Sweet & Spicy Almonds (shown right)
Awesome "Chips"
"Chips" may not be the most appropriate title because these road trip snacks are nothing like the classic chips you'd find at the grocery store.  You'll love that these options are much healthier!
Garlic and Parmesan Kale Chips
Easy Homemade Tortilla Chips (shown right)
Healthy Chocolate Treats
These chocolate treats are perfect when your sweet tooth comes calling.  These won't make a mess, and they're easy to pack and bring along with you.
Superfood Chocolate Treats (shown right)
Chocolatey Banana Pudding Bites
What are your favorite road trip snacks to pack?
Latest posts by FaveGlutenFreeRecipes
(see all)