When I was younger, salads certainly weren't my food of choice. Filled with bitter memories of soggy options from school canteens or dry, bland Iceberg lettuce, I never thought salads could be enjoyed. However, when I started experimenting in the kitchen, I discovered that there were ways you could prepare a salad that was actually exciting to eat.
With the endless ingredients, flavors and combinations you could use, there was no reason for such a healthy meal to not taste great. As I trialed at home, I began to notice the three key elements that could be used to give your salad an exciting twist. I've shared these salad ideas with you below, so that you can get creative with your homemade salads.
1. The Dressing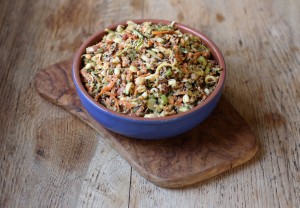 Considered the most important part of a salad by many, a dressing is something that can either create a food heaven or hell. I find, the success of your dressing comes down to it's pairing. If you're going for something Mediterranean with mostly leaves, like a Greek salad, then something light like a vinaigrette makes a perfect accompaniment – apposed to something heavy like a thousand island dressing. Even matching ingredients with flavors that you know go well together makes a great way to liven up your salad! For instance, I like to pair my Bean Sprout & Quinoa salad with a Thai dressing as I know that carrots and bean sprouts go great together with Asian flavors!
2. The Grain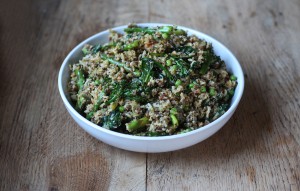 Adding grains and carbohydrates to salads make a great way to add more texture to your dish and create something more filling. For added sustenance and texture, I like to add some less common grains to my salads – as they makes a great way to test out new ingredients. Vibrant grains like Red Rice or Tricolore Quinoa add a nice colour and nutty taste to a dish. Quinoa is a perfect grain for a salad, which I often use in the Spring Green Salad I make at home. Asides from nutrition, grains are also easy to prepare before hand as you can cook them the night before, ready to simply add them into your dish the next day!
3. The Preparation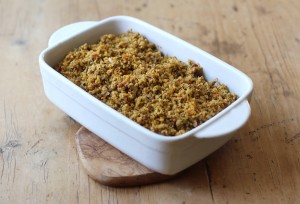 By simply preparing your vegetables in a different way, you can create a salad that tastes entirely different. Whether you switch from slicing vegetables like carrot, zucchini or cucumber into chunks, to spiraling them into a noodle shapes, you can alter their appearance and texture. By marinating vegetables like kale in lemon and herbs, you can create a dish with extra zing. By roasting some vegetables, you can even create a warm salad, like I do for my Roasted Vegetable Couscous in the Winter months. Just changing up the way you use your ingredients can bring some new-found excitement to your dish and help you discover new tricks and tastes!
Which salad idea surprised you the most?
Bonus! More healthy salad recipes!
Be sure to check out our "Healthy Salad Recipes" board on Pinterest for more great salad ideas!

Latest posts by Harriet Emily
(see all)