When it gets warm outside, it's so appealing to sit outside for dinner and enjoy the sights of a Southern spring. Nothing works up your appetite like a little work outside, getting your garden and foliage ready for longer days and more sunshine. It's just perfect to take a break with a savory Southern meal – something that really hits the spot! You want something where the taste will linger and give you a boost of energy while you're enjoying all the nice weather.
Personally, I think a shrimp and grits recipe is the best option overall for a satisfying, savory meal! It's so flavorful and filling, yet still light enough and reminds me of spring. When's the last time you tried a new shrimp and grits recipe? We've added quite a few gems to our collection. For dinner, though, it's pretty hard to beat a pork chop recipe for savory goodness. For breakfasts, go with some tasty cornbread and sausage. We love savory muffin tin recipes in the morning.
Round up your family to enjoy our collection of savory southern meals from FaveSouthernRecipes.com.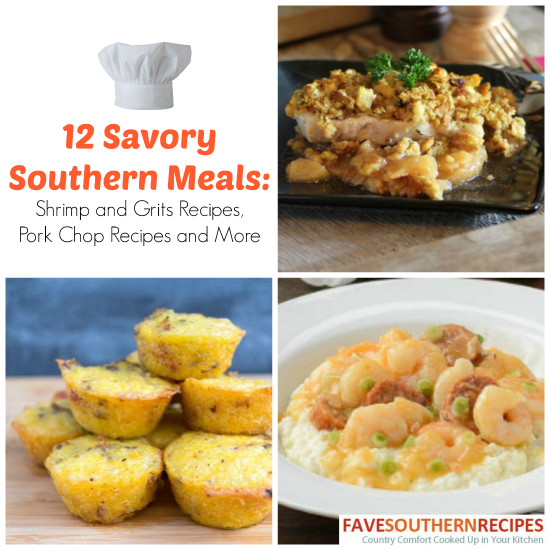 12 Savory Southern Meals: Shrimp and Grits Recipes, Pork Chop Recipes and More
Savory Breakfast Recipes
Savory Lunch Recipes
Savory Dinner Recipes
What's your favorite savory meal?
Latest posts by FaveSouthernRecipes
(see all)