If you're one of the many people who have made weight loss one of their goals for the New Year, you probably know that maintaining a healthy diet is one of the best things you can do, besides exercising, to ditch those unwanted pounds. Eating healthy, however, doesn't mean that you have to stick to a flavorless, boring meal plan. You can have a little sweetness in your life, provided that you're smart about what you're snacking on.
These cookie recipes taste wonderful and are much healthier alternatives to most cookie recipes. By relying on unusual ingredients and healthy substitutions, these cookies avoid the pitfalls associated with sugary desserts and are worthy of any diet.  With these healthy cookie recipes in hand you won't have to worry about breaking you New Year's Goal.
These Chocolate Brownie Cookies, created by Eliza at Eliza's Edibles, pack a secretly nutritious punch.  Whole wheat flour and black beans are only two of the good-for-you ingredients hidden in these decadent brownies.  You won't even taste the black beans in these fudgy cookies, though you'll get the benefit of a healthy dose of protein.
The next item on the list isn't exactly a cookie–it's Cookie Dough Dip!  Chickpea flour is the surprise ingredient in this recipe.  Don't worry, just like the Chocolate Brownie Cookies, this tasty dessert doesn't have a bean-like taste.  Quite the contrary, in fact, this delicious dip is a wonderful vehicle for chocolate chips and a brown sugar flavor.  Serve as a topping on your oatmeal or as a dessert dip.  Either way this is a great way to reward yourself for your hard work.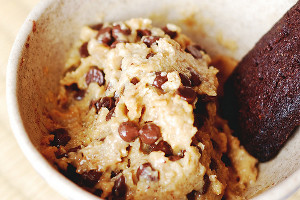 Whole wheat pastry flour makes these Cranberry White Chocolate Chip Cookies a bit healthier than their traditional counterparts.  Lower volumes of ingredients like butter and eggs, plus a smaller serving size allow these cookies from Honey, What's Cooking ring in at 89 calories per serving.  That's not too bad for a little snack.
Get a healthy dose of protein from these Flourless Mocha Bean Cookies.  This recipe uses black beans and chickpeas as a base, resulting in a moist, chewy cookie.  Hazelnuts, coffee, and coco powder act in concert to give these tasty healthy cookies a rich, deep flavor.  Even better, this recipe substitutes maple syrup for sugar so you won't get any processed sugars from this recipe.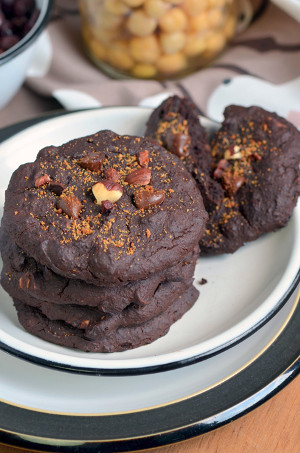 As with everything in life, moderation is the key here.  If you go hog-wild and eat a whole batch of these cookies, that might not be very good news for your weight loss goals.  But if you eat one a day, or freeze the cookies and eat one occasionally as a treat, these cookies won't set you back at all.  Try to think of your cookie as a reward for a job well done.   Good luck in the New Year.
What is your favorite healthy treat?
Latest posts by FaveGlutenFreeRecipes
(see all)