Volunteering to feed the hungry conjures up certain images – people sitting at large benched tables, or shuffling down a line to have the day's menu scooped onto their plates. While there's no wrong way to fight hunger, JUF Uptown Café in Chicago strives to take it a step further by serving meals with extra compassion and dignity.
When eleven Prime Publishing staff members visited JUF Uptown Café, we saw the difference a more intimate setting can make.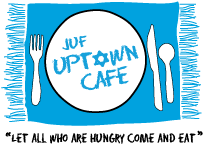 Jewish United Fund's Uptown Café, a kosher anti-hunger program, provides hot meals restaurant-style. The café, within the EZRA Multi Service Center, is open three days a week for dinner and on Sundays for brunch. Over the past year, 209 clients participated in the Café program, which served 12,473 meals.
Samantha Rifkin, JUF Uptown Café and Nutrition Coordinator, said "I say this to every volunteer group: We're not a soup kitchen, we're a meals program. A meal is not just about the food, but also about the people. Sharing a meal is an opportunity to practice appropriate social interactions, but also to share stories, life experiences, and build bonds with others. I love seeing the excitement on a client's face when they see a volunteer that they had a great connection with come back in the Café."
When the Prime Team (mostly food editors) arrived at the Café, Sam and other volunteers gave us a thorough orientation so that we knew exactly where everything was – from drinks to food and utensils – and exactly what to expect. There was no guessing, which made for a very comfortable volunteer experience.
The social expectations were laid out, as well – we were there to make connections. Rifkin said, "People stuck between a rock and a hard place still deserve to be treated with dignity. The ability to approach others, as well as be approached with dignity and kindness, is what makes us human. Everyone deserves to be treated with honor and respect, no matter what their situation in life."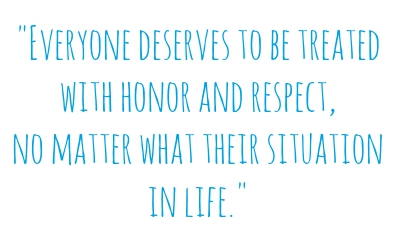 Rifkin said, "I would like volunteers to gain a better understanding of what urban poverty looks like. I think there is a perpetuated expectation that people experiencing urban poverty will act or behave a certain way, and I think meeting people who defy that expectation is a great way to create empathy and understanding, as well as a desire to help the community."
JUF Uptown Café has small tables of four in a multi-purpose space, with place settings at each seat. Diners come and go as they please during meal times, and volunteers serve them from a list of pre-determined menu items.
"You could feel the sense of community among the Café patrons. Many people looked for tables with their friends, and instead of eating in silence, people were talking and laughing," said Erin Jones from our marketing department.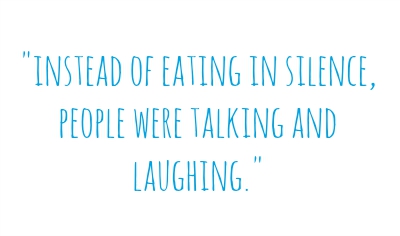 Even though most of us had never waited on anyone in our lives (which made us nervous), the diners were kind. Some were even encouraging, saying things like, "Don't worry, you'll do fine." Liz Abderholden, craft editor who got a heart-felt thanks from the table she served, said, "I really loved the community aspect. They create a safe place where they can eat, relax, and interact with both volunteers and fellow patrons."
Of course, being a group of mostly foodies, we were interested in the menu. That night, we served three-bean salad, low-sodium mushroom barley soup, okra, macaroni & cheese, baked tilapia with mango salsa, and watermelon for dessert.
"Since we work with and write about recipes all day at Prime, it was nice to get out and actually do something with food within our community," said Rachel Kallison, food team managing editor. "Serving meals to people in need at the Café was a rewarding experience because we could see the direct impact of our efforts. Being able to talk with members of the Uptown community after serving them their meal was my favorite part of the experience. Hearing their stories and talking with them one on one made volunteering a very memorable experience for me."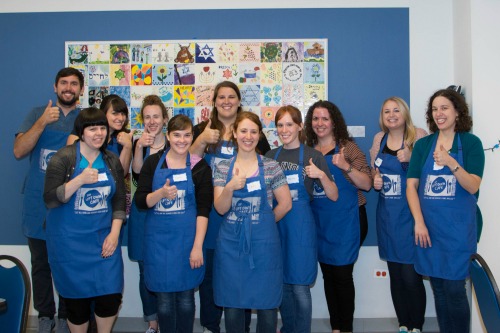 Our group of volunteers from Prime Publishing
Beth Ann Morley, food team editor, said "I didn't know what to expect when I signed up to volunteer. I've served at soup kitchens before, but the [JUF] Uptown Café was not like a typical soup kitchen. The restaurant-style was very unique, and it made the whole experience more personal. I'm glad I was able to interact with my table instead of just handing them food. I'm so glad I went, and I would love to go again. I would definitely recommend volunteering at Ezra!"
Emily Racette, food team editor, said "It's one thing to do charity work behind the scenes by yourself or with your friends, but actually spending time with those in need has a greater impact in my opinion. The people I met at [JUF] Uptown Café were sweet and friendly, and I greatly enjoyed serving and talking to them."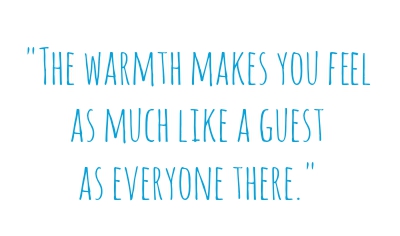 Danielle Zimmerman, food team community editor, said "We all had a wonderful time and found serving in the Café to be a very rewarding and memorable experience. We all look forward to volunteering again soon, whether it's through our company or on our own. It was wonderful to work together for the sake of doing good in the community."
Any of us would recommend volunteering at JUF Uptown Café. "Serving at the [JUF] Uptown Café didn't feel like working at all because of the environment," said Anne Rosean, craft team editor. "The patrons present conveyed comfort in their environment, gratitude for all of the servers' work, and enjoyed everyone's company so much so that the time flew by. The warmth makes you feel as much like a guest as everyone there. I'd recommend anyone considering this type of work give it a try; it's a very safe and positive environment."
Learn more about Uptown Cafe.

Learn more about our charity efforts:
Where have you volunteered?
Latest posts by RecipeChatter
(see all)