You know how some desserts just feel naughty? This Sex in a Pan is an irresistible, easy dessert recipe that will make you feel a little guilty – in a good way.
It's alright to indulge once in a while, and this cream cheese recipe takes the cake. With pudding, cream cheese, cool whip and pecans, it's refreshing and decadent. However, it's still shut-your-mouth easy.
After you make this once, you'll probably be able to make it with your eyes closed! (Please only bake with open eyes, thank you.) Also known as a Lust Cake, this kind of dessert seems to have a reputation for being a guilty pleasure.
Go ahead and give this easy recipe by Lainey Liz a try – we'll never tell!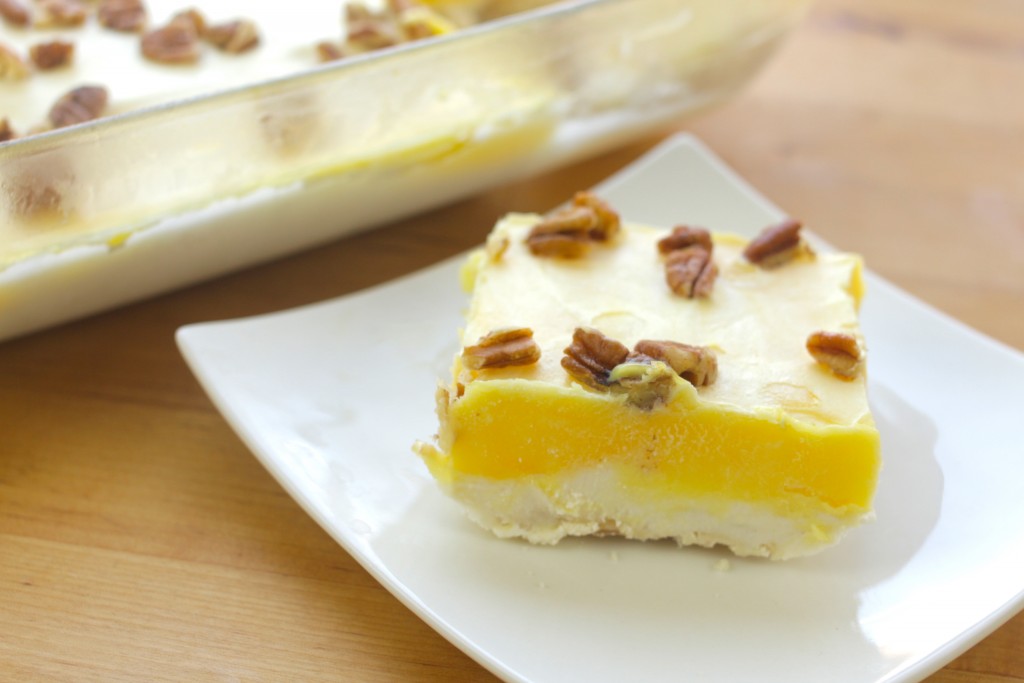 Sex in a Pan Recipe
Ingredients
1/2 cup butter softened
1 cup all purpose flour
1/4 cup chopped pecans
1 8oz cream cheese softened
1 12oz cool whip, softened
1 cup powdered sugar, sifted
2 (3.4oz) instant your choice of pudding
3 cups cold milk
Instructions
1. Preheat oven to 350 F, in 9×13 inch pan butter pan
2. To make the crust, in a large bowl mix together butter and flour. Next add pecans and mix until well combined.
3. Add crust to the pan and press down.
4. Bake for 15-20 minutes. Once it's finished baking, set aside or place in the fridge and completely cool.
5. In a another bowl mix together cream cheese, cool whip and powdered sugar. In another bowl, mix pudding and milk until it forms a custard.
6. Add the cream cheese mixture to the crust (except for about 1/2 – 1 cup of mixture), then add the custard/pudding and spread it carefully.
7. Use the extra 1/2-1 cup of mixture as the top layer. Sprinkle with pecans serve immediately or  freeze up to an hour.
What's your favorite guilty pleasure?
Latest posts by RecipeChatter
(see all)