If you are looking for recipes that not only taste fantastic, but can be made while stretching a dollar, then the Cheap Eats and Thrifty Crafts newsletter is for you. Having a great tasting meal is always a must; however, many of those meals come at a price – literally. You work hard for your money, and you don't need to sacrifice a lot of it in order to have a fabulous dinner. When you sign up, an electronic newsletter will be sent to your email account. This newsletter will contain delicious tasting recipes that can be made for cheap, tips to help you cut down on your grocery bill, and mouthwatering pictures to look at. This Cheap Eats and Thrifty Crafts newsletter will help make sure that both your stomach and your wallet are full!
Also, if you are into crafting, this newsletter will help you make thrifty projects. It has crafts that both you and your children will enjoy. Even if you're not the crafting type, we are sure that one or two projects will catch your eye and make you into a believer.
Signing up for this Cheap Eats and Thirty Crafts newsletter is very simple. If you follow these four easy steps, you will be cooking on the cheap in no time!
If for some reason this link doesn't work, copy and paste this url into your browser: http://www.recipelion.com/section/subctr/action/signup
You should be directed to a page that looks like this: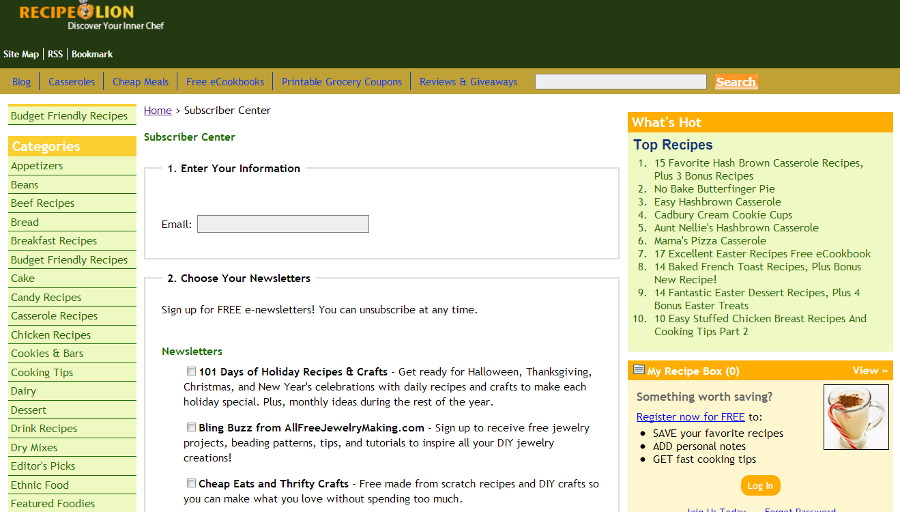 2) Enter your e-mail address in the box that says "Email:"
At the very top of the page, it says "1. Enter Your Information". Directly underneath that it says "Email:" with a long rectangular box to the right of it. Type your email address into that box.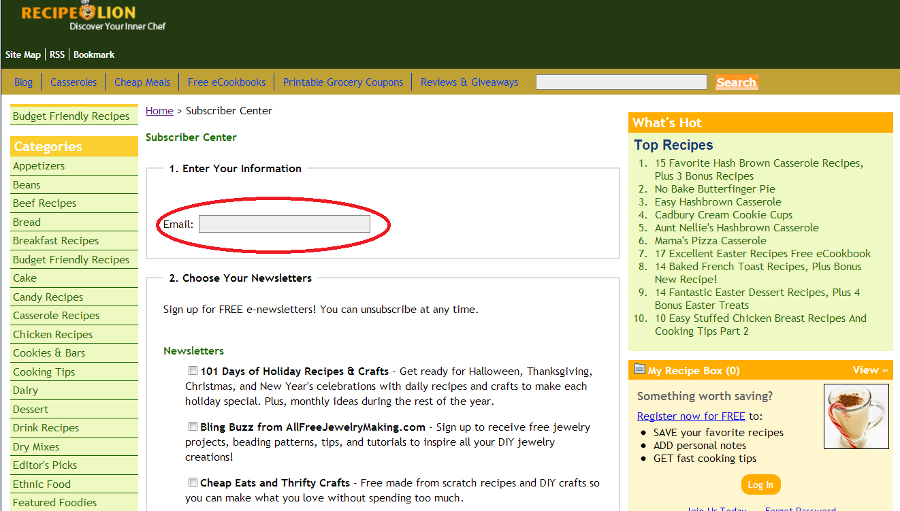 3) Click on the box to the left of where it says "Cheap Eats and Thrifty Crafts"
Below where you typed your e-mail address is an entire section that contains all of the different newsletters we have to offer. The third newsletter from the top is the Cheap Eats and Thrifty Crafts newsletter. Directly to the left of the words is a small box. Hover your mouse over the box, and left click the box. A check mark will then appear on the box.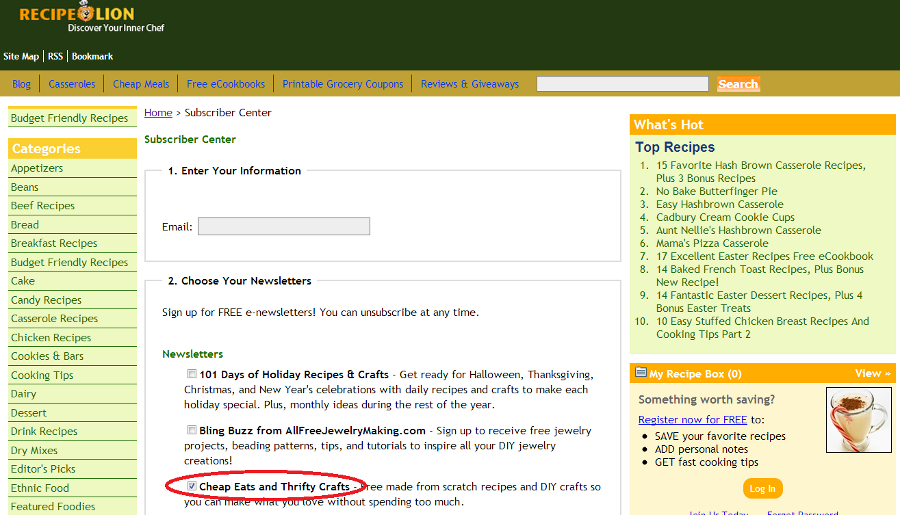 4) Scroll down to the very bottom of the page and hit the "Submit" button
Before you submit, take a look around at some of the many other free and fantastic newsletters we have to offer. We have so many newsletters relating to both recipes and crafting projects, that you are sure to find one that fits one of your many hobbies. Click on as many newsletters as you'd like!
After you have selected the newsletters you'd like to sign up for, and you have made sure that you have typed in your email address, scroll down to the very bottom of the page. You will see a big green button that says "Submit". Click on that button.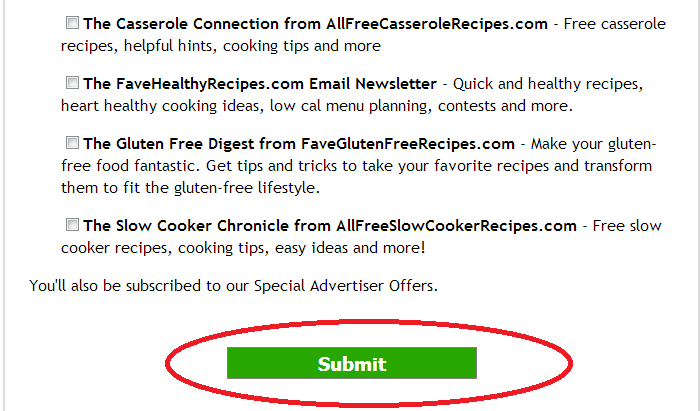 And that's it! You're done! You will have the newsletters sent right to your inbox. Sign up today!
Latest posts by RecipeLion
(see all)