There's nothing easier and more satisfying than tossing all of your dinner ingredients into one big pan, letting it cook, and then enjoying the delicious outcome. Casseroles involve minimal prep work and the end result is a tasty and wonderful meal that everyone can partake in. But, at the same time, casseroles sometimes include ingredients that aren't as healthy and nutritious as they could be. With that in mind, it's time to discover the brilliant solution. Quinoa Casseroles! These easy dinner dishes include nourishing ingredients, and still taste absolutely delicious. An ingenious combination, quinoa casseroles bring the simplicity of preparing a meal to a fun and nutritious place that the whole family will enjoy.
First, check out these awesome new casserole recipes we just discovered! We'll start with the Bruschetta Quinoa Casserole. This entire dish is full of ooey, gooey, cheesy goodness. A simple vegetarian recipe, all you need for this casserole is quinoa, vegetables, spices, and cheese. Lots and lots of cheese. This beautiful comfort food dish is an absolute masterpiece!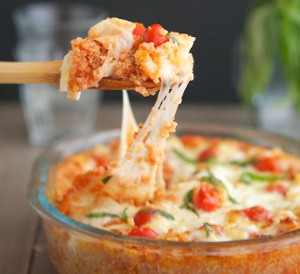 And don't forget this classic favorite. Everyone who has ever tried this recipe has absolutely LOVED it!! The Mediterranean Quinoa Casserole is full of rich flavors and healthy ingredients. One bite of this casserole and you will instantly be transported to the Mediterranean. The light and tasty flavors in this dish make it a perfect summertime recipe.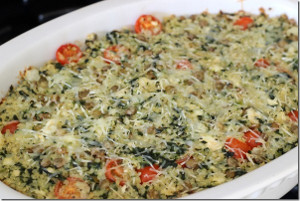 There are really so many different quinoa casseroles under the sun, the possibilities are truly endless. But be sure to check out these other Quinoa Casserole recipes from FaveGlutenfreeRecipes.com!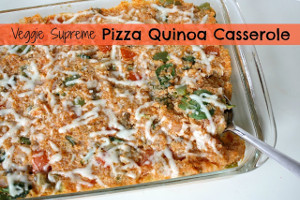 Veggie Supreme Pizza Quinoa Casserole (pictured)
And if you're looking to try something other than a casserole, well, we've got you covered. With this list of 45 Easy Quinoa Recipes for Every Meal of the Day, you can take this extremely versatile grain and put it to good use. There's no end to the options when it comes to quinoa. Salads, snacks, wraps, dinners, desserts….Experiment with these different recipes and discover your favorite!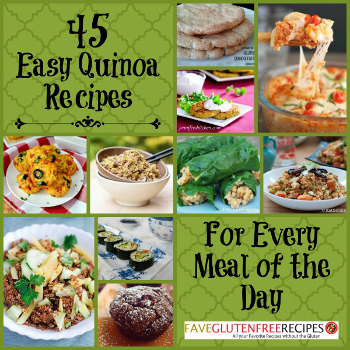 More Quinoa Casseroles to Love
The internet has spoken, and these are some of the most delectable quinoa casseroles out there! From the classic macaroni and cheese to a mouthwatering chicken enchilada bake, there's always something new to try!
Chicken Enchilada Quinoa Bake by Jo from Jo Cooks
Baked Quinoa Mac and Cheese by Annalise from Sweet Anna's
Tex Mex Quinoa Casserole by Miryam from Eat Good 4 Life
What's  Your Favorite Way to Eat Quinoa?
Latest posts by FaveGlutenFreeRecipes
(see all)