I love making a huge salad for dinner, but sometimes the men in my family don't consider something a meal unless there's meat in it. That's where this free eCookbook comes in handy! From delicious deli salads to easy green salads, you'll never be bored of eating salad again. These recipes are far from "rabbit food"–several even include chopped deli meat or grilled chicken, so they're more than approved by my family. When you're trying to eat healthy, it is very common to reach for salads and raw veggies without the fun stuff. These easy salad recipes are far from ordinary, and your family will enjoy them just as much as mine.
Here's a sample of our new eCookbook 12 Simple Salad Recipes: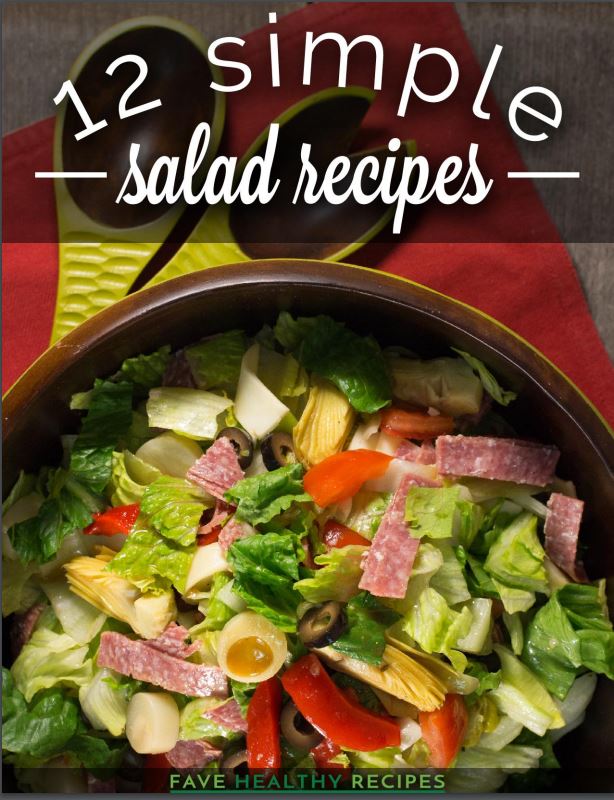 I've picked out a few of my favorites from this collection of easy healthy recipes. There are only so many basic salad recipes that you can consume before you lose your mind. Filled with fresh and seasonal flavors, each of these salads with be a welcome treat to your taste buds and healthy lifestyle.
1. Mason Jar Salads
Mason jar salads are without a doubt my favorite way to pack a salad for lunch. They aren't any more difficult to prepare than a regular salad–if anything, they're easier! Shake it up to mix when lunchtime rolls around, and eat it out of the jar. That's right, only one container to store and eat this simple salad. You need to make these immediately!
2. Grilled Lemon Chicken Quinoa Bowls
For something that's a little heartier, these quinoa salads are perfect. With grilled chicken, mixed greens, and flavorful quinoa, this recipe makes a filling lunch or healthy dinner. You'll get a double dose of protein from the chicken and quinoa, so these bowls are an easy way to eat salad without feeling like you're always eating "rabbit food."
3. Bacon, Egg, and Spinach Salad
I love making a big batch of spinach salad on the weekends to eat throughout the week. Spinach holds up really well, so this salad can be made ahead of time. It also holds up to warm salad dressings without wilting immediately, and this warm honey mustard dressing is simply delicious.
4. Amish-Style Broccoli Salad
Would this be a round-up of my favorite salad recipes without adding a deli salad recipe? Each serving of this easy broccoli salad has a full serving of veggies. This recipe also has two of my favorite additions: cheese and bacon. This is a great way to get your kids to eat their vegetables, too!
For the rest of these delicious salad recipes, be sure to download the free Cookbook here. Your taste buds will thank you!
What's your favorite summer salad recipe? Tell us in the comments!
Latest posts by FaveHealthyRecipes
(see all)