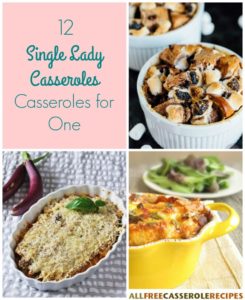 It is a truth universally acknowledged that casseroles create a lot of leftovers. Casseroles are great for feeding a crowd, but are just not as practical when you're only cooking for one. Besides, if you're trying out a new recipe and it doesn't turn out the way you wanted, there's nothing worse than being stuck with all those unwanted leftovers.
Never fear! There is, in fact, a way to enjoy a delicious homemade meal without having to eat leftovers for all of eternity. Visualize with me: you're craving something warm and comforting so you open your kitchen cabinet to make a casserole. First you see your trusty 9 x 13-inch pan, but that would make enough food for an army. Then, you see your handy dandy ramekins and a light bulb goes off in your head. Problem solved! It's the perfect serving size.
You'll use fewer ingredients and your meals will be fresher since these recipes make enough for one. Casseroles for one were basically made for today's independent ladies. Make what you want, when you want it!
Make sure to try these recipes in a well-made pot like the Swiss Diamond Nonstick Casserole Pot. Your recipes will turn out much better with the right tools, and this pot is easy to clean and will last a lifetime. Learn how to enter below!
Below you'll find our favorite casseroles for one from AllFreeCasseroleRecipes.com. You can make everything from breakfast, dinner, and even dessert with the recipes in this collection. Now you don't need to host a dinner party just so you can try out that new casserole recipe. The world (or your casserole pan) is your oyster, so go forth and cook whatever your heart (or your stomach) desires!
Casseroles for One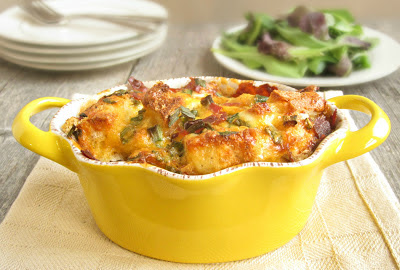 These easy casseroles are great if you want to try something new for breakfast, lunch, dinner, or even dessert. Casserole, party of one!
Casseroles for Two
While these recipes will make a bit more than one serving, they are still perfect for your busy life. These recipes only make two servings, so you'll have just enough for lunch the next day. Besides, these recipes are so good, you'll be glad to have a little extra.
 Bonus: Swiss Diamond Nonstick Casserole Pot Giveaway!

Enter to win a Swiss Diamond Nonstick Casserole Pot by October 31!
The Swiss Diamond Nonstick Casserole Pot is versatile pot made with Swiss Diamond's signature nonstick technology. The incredibly durable pot is perfect for making side dishes, your favorite casseroles, sauces, and much more! This piece of nonstick cookware also comes with a tempered glass lid.
It's perfect for making one pot meals, so
enter now
!
What's your favorite recipe for one?
Latest posts by AllFreeCasseroleRecipes
(see all)