We can't believe we're saying this, but sometimes, baked casseroles can be a bit heavy for summer. Keyword: sometimes. On days where it's particularly hot out, skillet casseroles can be a better option because many skillet recipes can be made without turning on the oven.
AllFreeCasseroleRecipes has found you a great variety of skillet recipes that are perfect for summer. Whether it's a ground beef casserole made in the skillet or a fruit cobbler, you can make it in a skillet!
Cast iron is definitely making a comeback, so there are also skillet recipes that you can make in a cast iron skillet. Cast iron is awesome because you can cook on the stovetop with it and then stick it in the oven to bake. Whatever your weapon of choice, these skillet casseroles are here to save the day when you want a meal that can be made in one skillet.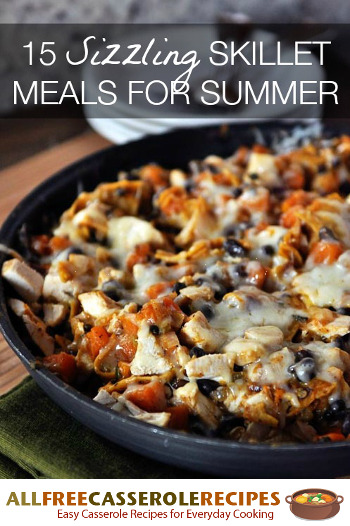 1. Black Bean and Butternut Enchilada Skillet – Quick, but full of Mexican flavor!
2. 15-Minute Skillet Chicken and Dressing Casserole – A casserole done in 15 minutes? That's practically unheard of!
3. One Skillet "Baked" Ziti – Your favorite Italian dish made easy.
4. One Pot Skillet Lasagna – Lasagnas don't have to be difficult to make.
5. Weekend Breakfast Skillet – Perfect for when you're feeling lazy.
6. Chicken Stroganoff Skillet Lasagna – Unique lasagnas are all the rage right now.
7. BBQ Cowboy Skillet Casserole – Because BBQ is basically synonymous with summer.
8. Hash Brown Skillet Casserole – Who doesn't love hash browns?
9. One Pot Mexican Skillet Pasta – Mexican + Pasta = Love
10. 30 Minute Sausage Gravy and Biscuit Skillet – Southern comfort.
11. Ramen Noodle and Beef Skillet – A step up from the microwave stuff you used to make.
12. Oh-So-Good Blackberry Skillet Cobbler – Dessert in the skillet? Um, YES!
13. Skillet Chicken and Vegetables – Simple and easy dinner.
14. Taco Skillet Casserole from San Pasqual's Kitchen – Cheesy, amazing goodness.
15. Skillet French Toast and Preserves Casserole from The Kitchn – Elegant, with tons of fruity flavor.
What is your favorite thing to cook during the summer?
Latest posts by AllFreeCasseroleRecipes
(see all)