Print This Post
Alright, we aren't in full-blown football season here, but chicken wings are delicious! Ever feel the overwhelming guilt of inhaling some (lots of) B-Dubs? Those wings leave you feeling stuffed beyond any level of comfort.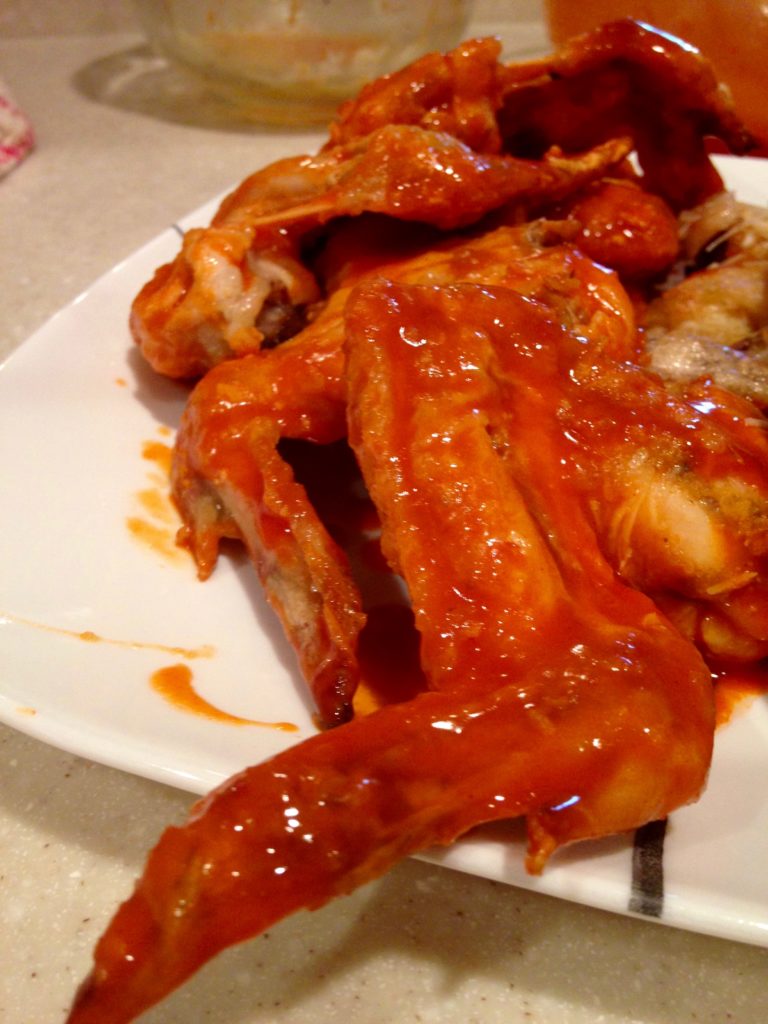 These Healthy T Skinny Chicken Wings are absolutely perfect for summertime! The wings are made with ONLY 3 ingredients – chicken wings, spicy sauce and cornstarch. Yes, that was cornstarch. My family looked at me like I was crazy when I said that, too.
Here's the thing: Most chicken wings are made with flour. And, at a restaurant, they're almost always fried. Not healthy!
By using cornstarch for these Healthy T wings, you're slashing the calories and keeping all the flavor you love! I chose Frank's RedHot Buffalo Wings Sauce for this recipe because I was feeding a lot of people on a budget, but you can always opt for a lower sodium sauce if you're watching your blood pressure. In fact, I've made garlic-Parmesan wings with a little bit of Garlic Expressions vinaigrette and Parmesan cheese, and it's a fan-favorite!
Skinny Chicken Wings Recipe
Serves: 4
What you need:
3 lbs. chicken wings
4 T cornstarch
1 cup wing sauce
Instructions:
Preheat oven to 450°F.
Toss wings and corn starch in a large bowl, until wings are evenly coated with cornstarch.
Line a flat baking sheet with foil. Coat the foil with a generous layer of non-stick cooking spray.
Arrange the wings on the baking sheet. Cook in the oven, on the middle rack, for 20 minutes.
Flip the wings. Cook for another 20 minutes.
Add the wing sauce to medium bowl. Toss the wings in the sauce.
Serve and enjoy! Simple and delicious!
I'm a complete foodie who loves to stay fit! It's hard for me to whip up a classic recipe without adding a healthy twist, so I started my 'Healthy T' blog several years ago as a way to catalog my favorite concoctions. The support I've received in return has been remarkable. 'Healthy T' is all about eating to feel your best! Cheers!
Latest posts by Tarah Thorne (see all)
Print This Post