Mmmm … I'm thinking French toast for breakfast, brunch for lunch and some French toast leftovers for dinner!
This Healthy T Skinny Blueberry French Toast Recipe is so yummy and super easy to make! It takes a whole 2 minutes to mix up all the ingredients and dump it in the slow cooker – my kind of meal.
What's great about this slow cooker meal is it's total comfort food but also guilt-free enough to enjoy in the heat of the summer—when blueberries are in season! Treat yourself to a warm, homemade brunch without worrying about your bikini body.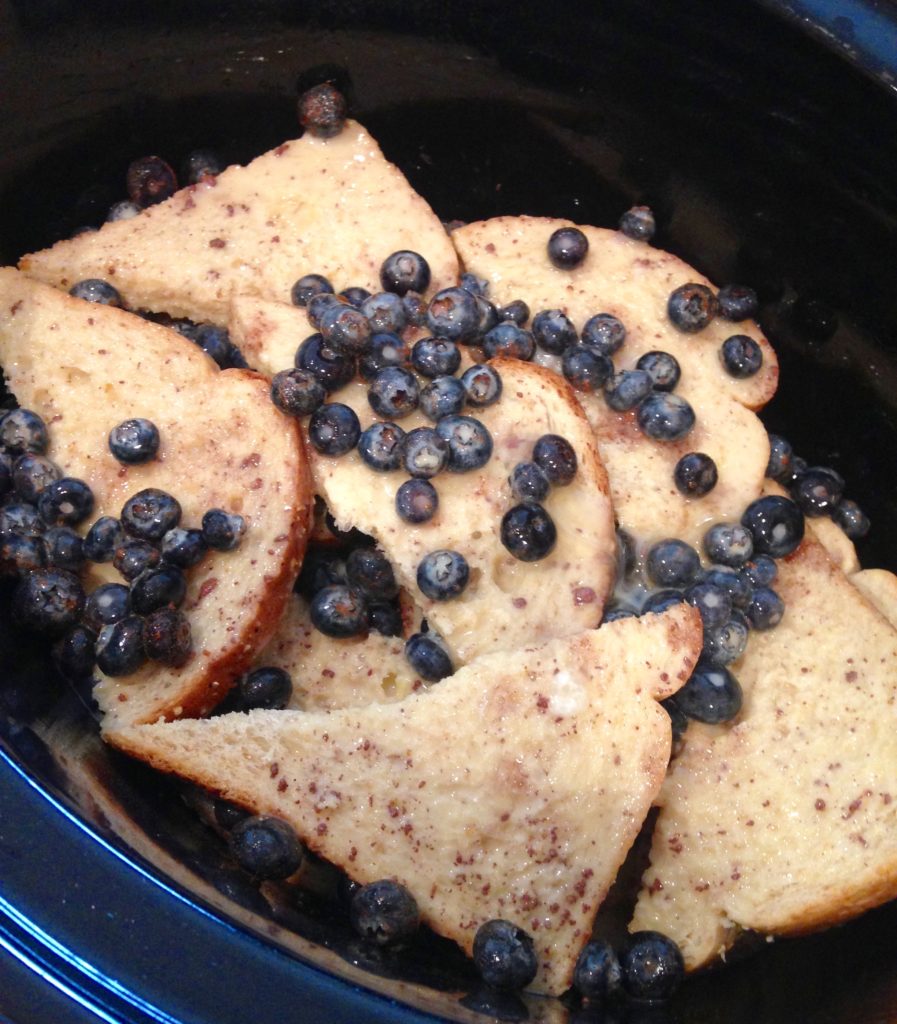 A single serving of this Healthy T Skinny Blueberry French Toast is just 265 calories! It's a great pre-workout meal, using eggs for protein and fresh blueberries for flavor, which are low in calories and high in nutrients. Plus, this recipe doesn't call for butter, sugar or cream—all the heavy stuff that weighs you down after a meal.
Since this recipe takes about 2 hours in the slow cooker, it makes a great weekend breakfast, after-school meal for the kiddos, or even a fun dinner for the entire family!
As you'll see in the final photo below, I like to top my Skinny Blueberry French Toast with organic blueberry syrup. You could also substitute a drizzle of honey for syrup, or use another light syrup found at most grocery stores.
Skinny Slow Cooker Blueberry French Toast
Serves 4
265 calories per serving
Ingredients:
2 eggs, 2 whites
1.5 cups almond milk (or skim milk)
2T honey
1 tsp. pure vanilla extract
1/2 tsp. cinnamon
9 slices of light bread
3 cups blueberries (or berries of choice)
3T honey
1/2 tsp. lemon juice
1/2 tsp. cinnamon
Instructions:
In a medium bowl, combine first 6 ingredients with a whisk – do not add bread yet.
Generously coat your slow cooker with cooking spray.
Cut each slice of bread in half, at a diagonal.
In a small bowl, combine remaining ingredients, stirring with a spoon to coat the blueberries with sweetener.
Place 6 triangle pieces of sliced bread at the bottom of the slow cooker. Add 1/4 of the blueberry filling.
Repeat this process until you've used up all your bread and filling.
Pour egg mixture over your bread and blueberries in the slow cooker.
Cook on high for about 2 hours.
Note: Check the bottom layers to see if they've started to brown after 1.5 hours. If they've browned, turn the heat to low for the remaining 30 minutes of cook time.
ENJOY!
What's your favorite meal to start the day off with?
Latest posts by Tarah Thorne
(see all)