This post is brought to you by Anjali Shah, creator of The Picky Eater blog. Anjali creates and writes about healthy food that is "husband approved," in her words.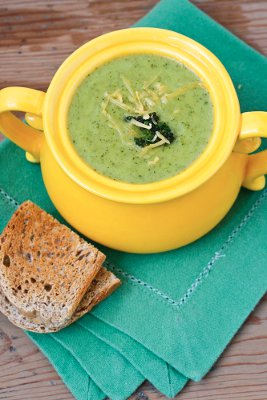 One of the husband's favorite soups is Broccoli Cheese (or Broccoli Cheddar) Soup.
Warm, gooey, cheesy, rich – there are a lot of things to love about Broccoli Cheese Soup.
What I don't love is the fact that one tiny cup of the traditional recipe can run you over 400 calories and 18g saturated fat. That's because most versions of this recipe end up being more like "cheese soup with a tiny bit of broccoli."
I have been looking for a way to make this recipe healthier for a while now, and I was so excited when I came across this recipe from Cooking Light!
I managed to make the Cooking Light version even healthier by making it veggie-friendly (traditional broccoli cheese soup recipes use chicken stock) and adding in even more broccoli without losing any of the cheesy goodness.
And the best part — this recipe takes less than 30 minutes to make! Serve it with some crusty bread and you've got yourself a delicious, light, dinner.
Ingredients
    3 cups unsalted vegetable stock
    16oz broccoli florets, coarsely chopped
    1 cup diced yellow onion
    1 chopped carrot
    1/2 tsp salt
    1/4 teaspoon freshly ground black pepper
    3 garlic cloves, minced
    1/4 + 1/8 cup half-and-half
    4 ounces shredded reduced-fat extra-sharp cheddar cheese, divided
    1/4 cup fresh flat-leaf parsley leaves (optional, garnish)
Directions
Step 1:  Combine first 7 ingredients in a large saucepan; bring to a boil. Reduce heat, and simmer 10 minutes or until broccoli is tender.
Step 2: Turn off the heat. Using an immersion (hand) blender, blend the soup until it's creamy. [Alternatively if you don't have a hand blender you can use a regular blender: Pour soup into a blender. Remove center piece of blender lid (to allow steam to escape); secure lid on blender. Place a clean towel over opening in blender lid (to avoid splatters). Blend until smooth. Return soup to pan.]
Step 3: Stir in 1/4 cup + 1/8 cup half-and-half and 2 ounces cheese. You don't need to turn the stove back on again, the residual heat from the soup should melt the cheese.
Step 4: Top evenly with remaining 1 tbsp cheese per bowl and parsley.
Nutritional Info Per Serving: 110 Calories, 6g Fat, 458mg Sodium, 8.6g Carbs, 3.9g Fiber, 0.9g Sugar, 7.7g Protein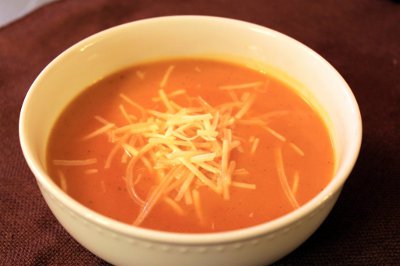 This is another fantastic soup recipe that brings back tons of great holiday memories. To me, Thanksgiving is all about getting together with family and friends, being warm, and eating amazing food — like this Butternut Squash Soup. I have great memories of this holiday, because one of my very close family friends always has a huge potluck on Thanksgiving at her house where all of the families and kids I grew up with reunite and catch up.
The potluck lunch is our Thanksgiving tradition. I grew up in the Bay Area with a bunch of "family friends" that my parents befriended when they moved here from India in 1978 (before I was born!). Since all of my parents and their friends' biological families lived in India, this group of close-knit family friends became like their family in the Bay Area. All of us kids spent our childhoods together – meeting through countless dinner parties, birthday parties and get togethers.
Of course, once we graduated from high school we all went our separate ways – and many of the "kids" don't live in the Bay Area anymore. But Thanksgiving is the one time everyone comes together, it's the one "dinner party" left that the kids still come to on a regular basis. And it's always really great to see everyone!
While I'm bringing a salad to my family friend's potluck, I'm bringing this soup to The Communal Table. The recipe was amazingly easy, and turned out to be super flavorful and delicious. I ate it for leftovers for a few days after I made it because it was so good!
Ingredients
    1 butternut squash, peeled, seeded and cut into 1 inch cubes
    1 yellow onion, diced
    4 cloves garlic
    3-4 sprigs of fresh thyme
    4 cups vegetable stock
    1 Tbsp extra virgin olive oil
    1/4-1/2 tsp cumin
    1/4 tsp nutmeg
    1/4 tsp cinnamon
    1/4 tsp black pepper
    salt & pepper to taste
Directions
Cook the onion, garlic and thyme in the olive oil until the onion has softened, about 5 minutes. Add the squash and saute for another minute or so.
Add the vegetable stock, bring to a simmer and cook until the squash is tender – about 30 minutes. Season with cumin, nutmeg, cinnamon, black pepper and salt, and stir to combine. Let simmer a few minutes more and then remove from heat.
Using a hand blender, puree the soup into a creamy, smooth consistency.
Return to heat, and let the soup warm through.
Serve in bowls and top with freshly grated parmesan cheese.
Nutritional Info Per Serving: 150 Calories, 4g Fat, 84mg Sodium, 23.5g Carbs, 6g Fiber, 1g Sugar, 2g Protein
What's your favorite skinny soup?
Latest posts by FaveHealthyRecipes
(see all)