As food prices rise and you try to stay afloat in our troubled economic times, it can be frustrating to see an expensive grocery bill. AllFreeCasseroleRecipes.com is here to help. I have come up with three simple steps that will help slash your grocery bill while still making it possible to make a delicious meal.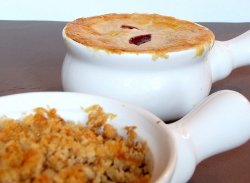 Get the Most Out of Your Leftovers
Reusing leftover food is like a BOGO sale (buy one get one free). You get two dinners out of one meal! Leftover food saves time, energy, and money. Whether you reheat a whole meal or just one ingredient, leftovers can go a long way. The days after Thanksgiving are prime times for leftovers. Listed below are a few recipes perfect for the week after Thanksgiving. Brown Rice Casserole with Leftover Turkey uses that turkey you couldn't finish and mixes it with brown rice (a budget-friendly ingredient) and mushrooms. Isn't it wonderful when the main part of the dish is already cooked?! Our second recipe is Leftover Turkey Pot Pie. This meal is practically Thanksgiving dinner in one pot. Stuffing, cranberry sauce, and gravy are reused to make this delectable dish.
Brown Rice Casserole Recipe with Leftover Turkey

Use Inexpensive Meats Like Tuna
Eating steak and lobster every week may be nice, but that's just not gonna happen in a budget-conscious household. Instead, make meals that use inexpensive meats, such as tuna. Not all tuna casseroles are bland, as these two recipes prove. Tuna Casserole with a Twist doesn't use any kind of cream soup. What it does use is onion, lemon, and spinach, for a wholesome meal. Another option is Puffy Tuna and Rice Casserole. Where does the "puffiness" come from? That happens by separating the egg whites from the egg yolks. The egg whites make it puffy and the egg yolks create a thick and rich sauce. Check out AllFreeCasseroleRecipes' other modern tuna casserole recipes for more ideas.

Make Recipes that Require Fewer Ingredients
My final tip for you is to use recipes that have few ingredients. That's easier said than done. Obviously using fewer ingredients will result in a cheaper grocery bill, but how do you make meals that still taste good? I'll show you. Here are two recipes that only use six ingredients. The first is Lazy Lasagna. As with any lasagna, it requires noodles, sauce, and cheese. PLUS, it's made in a jar. That part won't save you any money, but it makes it WAY cuter. Another six-ingredient recipe is Taco Stuffed Crescent Rolls. This Tex-Mex dinner stuffs ground beef into crescent rolls, which are baked until they're golden brown. Use a packet of taco seasoning to add lots of flavor.
There are also some great food blogs that focus on eating on a budget. I suggest taking advantages of these. 100 Days of Real Food offers tasty, budget-friendly meals that don't use processed food, and Poor Girl Eats Well provides the average cost per serving with every meal.
How do you save money at the grocery store?
Latest posts by AllFreeCasseroleRecipes
(see all)