Did you just get your first slow cooker? Congratulations! Maybe you aren't used to using kitchen appliances beyond the microwave/stove, or maybe you've got all kinds of gadgets and just got around to a slow cooker. There's something you need to know right away – the slow cooker is about to change your cooking habits forever! Once you get the hang of this revolutionary cooking tool, you'll rely on it for quick, easy dinners for years to come.
To help you get started with your new favorite appliance, we've put together a collection of tips and tricks. You'll be a slow cookin' pro in no time! Then, you can give some of our easy slow cooker chicken recipes a try. We have a wide variety at AllFreeSlowCookerRecipes.com.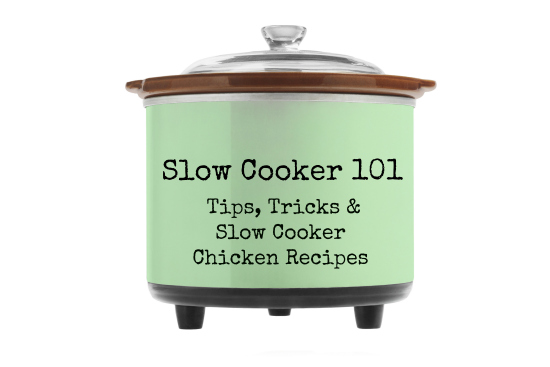 To get started, you'll need the slow cooker basics. Most slow cookers have similar settings – good news for you! Your user manual can go a long way in helping you get acquainted, so do read it from front to back. It may even have some cooking tips unique to your brand or type of slow cooker.
The most important thing you need to know is how to set your slow cooker on high or low. The normal cooking temperature for a slow cooker is around 175-200 degrees for each setting, but a higher setting will reach that temperature faster than a lower setting.
When preparing a meal for your slow cooker, follow this process:
1. Have your recipe and ingredients ready. Make sure your slow cooker is plugged in.
2. Follow the recipe and fill your slow cooker. Make sure the lid is on snugly.
3. Set your cooking time to low (8-10 hours) or high (4-6 hours). Remember, the higher setting gets warm faster, so you don't need to cook as long. Your recipe should let you know what setting to use.
4. Let your food cook itself! Don't lift the lid unless absolutely necessary – you'll let the trapped heat out if you do.
5. When time's up, turn off your slow cooker and prepare or store your meal.

These tips and tricks will help you avoid common slow cooker mistakes.
1. Brown your meat before using it in your slow cooker. You'll get much more flavor.
2. Dairy products like milk can curdle if left in your slow cooker too long. Add them toward the end of the cooking time to avoid that.
3. Thaw frozen food before using it in your slow cooker.
4. Don't fill your slow cooker to the top! Make sure the lid can close completely. Otherwise, your food will not cook correctly.
5. Use slow cooker liners for hassle-free clean-up.
6. Try and get rid of any excess fat before cooking, because it won't cook away or add much to your meal.
7.  Low and slow is best. To get the most flavor, opt for the low setting whenever possible.
8. Don't touch the lid! Nothing needs to be stirred or poked. Every time you lift the lid, you'll need to cook it longer.
9. For thousands of slow cooker recipes, browse AllFreeSlowCookerRecipes.com.
Slow Cooker Chicken Recipes
For your first attempts, try these easy, quick slow cooker chicken recipes. They're guaranteed to be delicious! If you'd rather use ground beef, you can give these slow cooker ground beef recipes a try.
1. Springtime Lemon Garlic Chicken
2. Crispy Chunky Chicken Parmesan
3. 5-Ingredient Slow Cooker Swiss Chicken
4. Creamy Chicken and Rice Casserole
5. Rustic Italian Chicken and Pasta
6. Tasty Orange Chicken
7. Chicken and Dumplings
8. 4-Ingredient Hawaiian Pineapple Chicken
9. Creamy King Ranch Chicken
10. Easy General Tso's Chicken
Did we miss anything? Share your own tips or questions in the comments.
Latest posts by AllFreeSlowCookerRecipes
(see all)