Did you know that there are so many delicious and wonderful sweet treats you can make in your slow cooker? Surprise your sweetheart or your family with some delicious dessert bars, brownies, fudge, and even cakes from your slow cooker. Your slow cooker and desserts go together. Although your slow cooker may not be your first thought when thinking about baked goods, it actually does a fantastic job in the cooking department.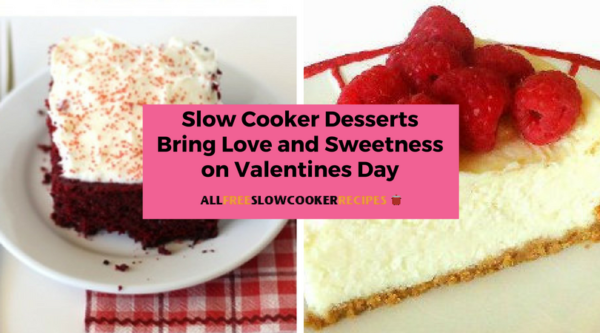 Slow Cooker Desserts Bring Love and Sweetness on Valentines Day
Your cakes, brownies, etc. will come out incredibly moist and flavorful. So when thinking about making a special sweet surprise for those you love, you absolutely should peruse some of our slow cooker dessert recipes below and try one out as soon as possible. You also have the luxury of preparing your ingredients the night before and have your slow cooker in cooking mode all day while you are at work and when you return a wonderful dessert is soft and warm and ready to be served. This coming red hearts day be creative and inventive and make your loved ones something special in your slow cooker. They will keep a place in their heart just for you always.
10 Slow Cooker Desserts
Pistachio Nut and Sour Cherry Chocolates
Slow Cooker Frosted Cookie Bars
Slow Cooker Chocolate Caramel Cookie Bars
Gluten-and Dairy-Free Peppermint Fudge
What is your favorite dessert to make for Valentines Day? Tell us in the comments below.
Latest posts by AllFreeSlowCookerRecipes
(see all)