As Easter is just around the corner, we suspect you may be searching out some new recipes for the occasion. Easter is such a special day for friends and family and we know you want your meal to be as festive and delicious as possible. Desserts always help set the tone for a holiday and we have some extra special ones to share with you that you can make in your slow cooker. Some Easter desserts you can make ahead of time and some desserts you can make right before your holiday meal and serve it hot and amazing to your guests right on the spot. These are memorable dessert dishes that you will be proud to put on your table.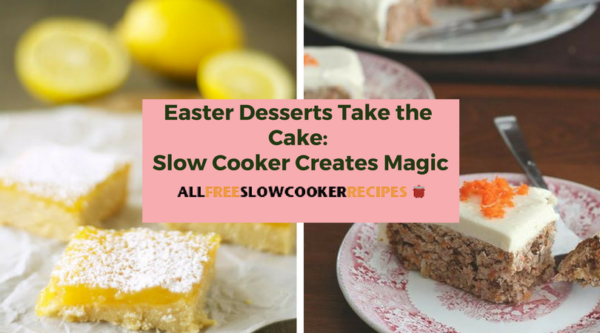 Easter Desserts Take the Cake: Slow Cooker Creates Magic
We are thrilled to share some carrot cake dishes as well as some springy types of dishes, for example, some with lemon, to set the tone for the new season upon us. Everyone will be surprised at how delicious a slow cooker dessert can be. Your slow cooker is good at enhancing the flavor of your recipe and getting your dish to its ultimate flavor peak. Our slow cooker Easter desserts will have your guests begging for the recipe. Click here for some additional Easter menu recipes that will pump up your holiday and add the glitz and glamour it deserves. On this religious holiday, you want to serve the foods that will make the day enlightening on all fronts. Spring into Easter this year with one of our fantastic recipes.
8 Easter Dessert Recipes
Lemon Blueberry Breakfast Bake
Sweet and Sunny Lemon Cookie Bars
Super Moist Cake Mix Carrot Cake
What is your favorite Easter dessert? Tell us about it in the comments below.
Latest posts by AllFreeSlowCookerRecipes
(see all)