When thinking about all the cooking and baking you're inevitably going to do over the holidays, it might seem pretty daunting — so why not make it something to look forward to instead? Baking cookies in the slow cooker is one of the easiest and most care-free ways to bake, and during this holiday season, we at AllFreeSlowCookerRecipes.com want to show you how!
When you think about all the Christmas cookie recipes you've baked in your life, most (if not all) of them have probably been in a conventional oven. But, it's so much more convenient to use to your slow cooker for easy Christmas cookies because it will save you space in your oven for all that main-dish cooking you've got to get done. Some of the best slow cooker dessert recipes we can think of for the holidays are cookies and cookie bars, so let's make some magic happen in your kitchen, shall we? Below, you'll find all the tricks of the trade for baking amazing-tasting cookies and bars in your slow cooker.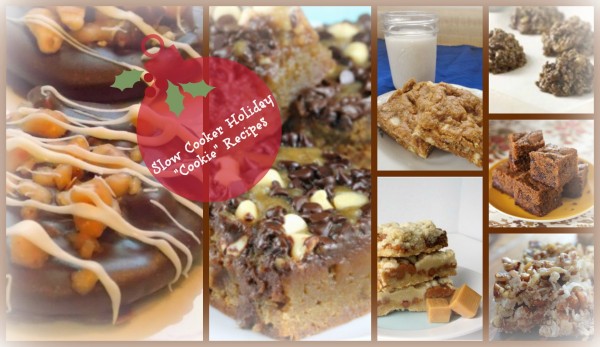 First and foremost, let's go over some tips for slow cooker baking that will come in handy any time you plan to use your slow cooker for cookies, cookie bars, brownies, blondies, cakes, or breads.
Tips for Slow Cooker Baking:
Grease your slow cooker thoroughly, so that nothing gooey sticks to the bottom or sides.
You should also line the bottom of your slow cooker with wax paper or aluminum foil for easy removal of your baked goods.
Each slow cooker is a bit different, and depending on what size yours is, baking will happen more or less quickly than with other sizes. Cookie bars and brownies normally take anywhere from 1.5 – 4 hours on the HIGH setting. However, it's best to err on the side of caution when you're still new to baking in the slow cooker. Whether you're following a recipe or experimenting with your own, make sure to check on your cookie bars so that they don't over cook.
At the same rate, don't open your slow cooker lid too often either. If you do, heat will be released each time, and baking will take much longer than you anticipated. Keep in mind, it's much easier to under cook your baked goods than to over cook them when baking in the slow cooker, but like all baking, it does happen if you don't pay attention.
If you want to keep the lid on your slow cooker open a crack to avoid condensation dripping onto your baked goods, you can use cotton dish towels or cloth paper towels, and place them on either side of your lid to prop it open slightly. This will allow steam to escape, while still keeping enough heat inside your slow cooker to fully bake your treats.
Check to see if your cookie bars are done by looking for browned or crust-like edges. If you can't tell, you can tug at the aluminum foil a bit. You can also do the toothpick test, and stick one into the middle of your cookie bars to see if anything sticks.
Once you suspect your cookie bars are done, turn the heat off on your slow cooker. If you plan to remove them immediately, this doesn't matter as much, but if you let them cool in the slow cooker, they will continue to cook until the slow cooker cools down. Just keep this in mind!
'Tis the Season to Indulge!
Whether you love to indulge with chocolate, caramel, peanut butter, or something in between, we gathered plenty of yummy recipes for you to choose from! As we know, the holidays are a time to give and to receive, and our gift to you is this collection of delightful Christmas cookie bar recipes. Now it's your turn to spread some holiday cheer by making them for all the special people in your life.
Bring them as treats for the host of any Christmas parties you attend, set them out by the tray full at your own holiday gatherings, even bake them ahead, wrap them up nicely, and hand them out as festive, edible Christmas gifts everyone will be delighted to bite into. Baking is also a great way for you to spend some quality time with your children. Bake a batch together, and enjoy them as a family with a nice cup of hot cocoa during those cold nights huddled by the fireside.
Holiday Recipes for Slow Cooker Cookie Bars:

Here are a few of our very favorite holiday cookie bar recipes to get you started. Make sure to follow our tips above, and happy slow cooking!
To find even more slow cooker cookie bar recipes, check out our full collection here.
What are some of your favorite holiday cookie recipes?
Latest posts by AllFreeSlowCookerRecipes
(see all)